Montréal, February 25, 2016
Results for 2015

Hydro-Québec's net income exceeds $3 billion for a second consecutive year

Exports: 15% of net sales volume generates 29% of net income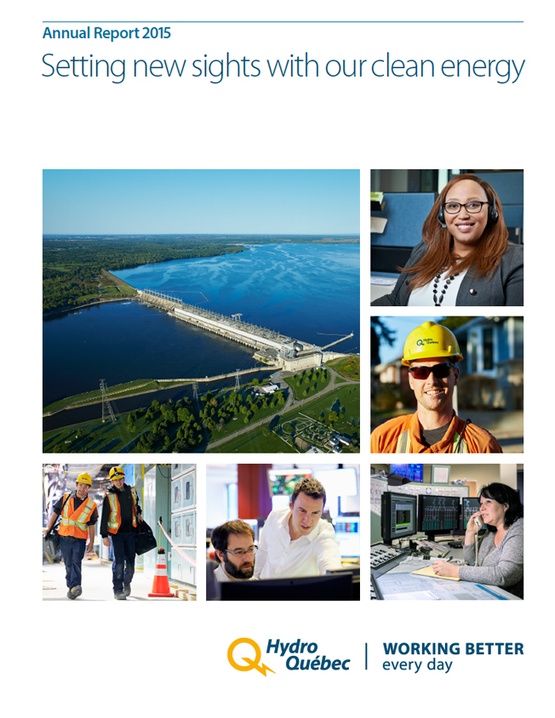 Éric Martel, President and Chief Executive Officer of Hydro-Québec, and Lise Croteau, Executive Vice President and Chief Financial Officer, today announce the company's financial results for 2015. Net income exceeded the $3-billion mark for a second consecutive year, totaling $3,147 million, partly on account of a significant increase in net electricity exports.
"Thanks to this good result, Hydro-Québec will be able to pay a $2,360-million dividend to its shareholder, the Québec government. This amount is in addition to the $3.4 billion that Hydro-Québec invested for the collective benefit of all Quebecers, making it the largest investor in Québec, all business sectors included," stated Éric Martel.
2015 highlights
29.3 TWh in net exports of clean energy

$902-million contribution to net income, up more than 10% from 2014
Romaine hydroelectric complex
Commissioning of Romaine-1 generating station (270 MW) at year end
Completion of the entire Romaine-1 development eight months ahead of schedule and within the allocated budget
End of the large-scale rollout of next-generation meters
Deployment of nearly 3.7 million meters throughout Québec, 1.2 million of which were installed in 2015
Project completed on budget three years ahead of schedule
Economic spinoffs of Hydro-Québec's activities
Dividend to be paid to the Québec government: $2,360 million
Water-power royalties and other amounts paid to the Québec government: $1,127 million
Investments throughout Québec: $3.4 billion
Purchases of goods and services in Québec: $2.8 billion
Consolidated results
Hydro-Québec posted net income of $3,147 million in 2015, compared to $3,325 million in 2014. Hydro-Québec Production's net electricity exports grew by $118 million. However, this increase was offset by two factors: supplies provided by Hydro-Québec Production to Hydro-Québec Distribution decreased by $202 million due to the combined effect of lower market prices and a reduction in volume; depreciation and amortization expense increased by $120 million, primarily as a result of the commissioning of property, plant and equipment.
Exports
The skillful development and deployment of the sales strategy, coupled with optimal management of generating and transmission equipment, enabled Hydro-Québec to capitalize on business opportunities on external markets. Net electricity exports thus increased by 3.9 TWh compared to 2014 to a total of 29.3 TWh, contributing $902 million to net income. In 2015, net electricity exports accounted for only 15% of net sales volume, but generated 29% of the company's net income. It should be remembered that, each year, Hydro-Québec's clean energy exports avoid millions of tons of GHG emissions in northeastern North America.
Investments
The investment program totaled $3,440 million, due mainly to the continuation of major projects in the generation and transmission segments.
At the Romaine hydroelectric complex, Hydro-Québec reached an important milestone at year end with the commissioning of the two units at Romaine-1 generating station (270 MW) and the connection of the station to the grid. The first component of this large-scale project, Romaine-2 generating station (640 MW), was completed in 2014.
In the distribution segment, Hydro-Québec completed the large-scale rollout of the advanced metering infrastructure. This project is already helping the company increase its productivity, offer new services and optimize the management of its distribution network, and thus is having a positive impact on electricity rates for all Québec customers.
"The quality of the work accomplished has contributed to making 2015 an excellent year for Hydro-Québec from a financial standpoint," added Lise Croteau.
For more information on Hydro-Québec's financial results for 2015, please visit www.hydroquebec.com/ar.
For more information:
Audrey Giguère
Hydro-Québec
Tel.: 514 289-5005
Newsroom: news.hydroquebec.com/en
Top of page