Montréal, November 12, 2015
Complexe Desjardins joins the Electric Circuit to offer four public charging stations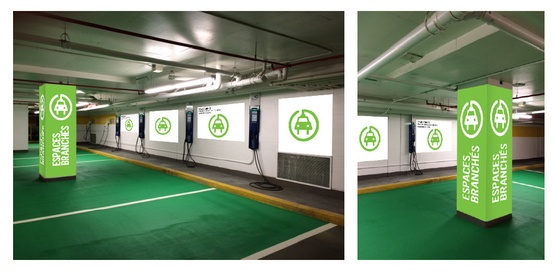 The Electric Circuit is pleased to announce a partnership with Complexe Desjardins to install four public charging stations for electric vehicles. Visitors can now charge their cars in the indoor parking lot located at 150, rue Sainte-Catherine Ouest, in Montréal.
"I am delighted that the Complexe Desjardins is providing the charging infrastructure needed to support the adoption of even more electric vehicles on our roads. With the numerous actions taken by our government over recent years, including the announcement of the new Transportation Electrification Action Plan 2015–2020, Québec is positioning itself as a world leader, in addition to fighting greenhouse gas emissions, which the transportation sector is mainly responsible for producing," said Pierre Arcand, Minister of Energy and Natural Resources and Minister responsible for the Northern Plan.
"The installation of four electric vehicle charging stations is an added value to our service offering for tenants and customers of Complexe Desjardins. We are glad to contribute to transportation electrification and help reduce greenhouse gas emissions," said Nathalie Pomerleau, Director – Real Estate Operations at Complexe Desjardins.
"We are delighted to welcome Complexe Desjardins, committed to promoting sustainable products and services," said France Lampron, Director – Transportation Electrification at Hydro-Québec on behalf of the founding partners of the Electric Circuit. "Thanks to these four public charging stations, employees and visitors can now charge their electric vehicles at the Complexe."
About the Electric Circuit
The Electric Circuit is the largest public charging network in Québec. It is a major initiative in the implementation of the infrastructure required to support the adoption of plug-in electric vehicles in Québec. The network comprises over 500 public charging stations, including 21 fast-charge stations, operating across 16 Québec regions. Since its launch in March 2012, 125 private and institutional partners have joined the Electric Circuit, and the network now has over 6,000 members.
Electric Circuit users have access to a 24/7 telephone help line run by CAA-Québec, as well as a charging-station locator service. The Electric Circuit Web site, theelectriccircuit.com, and the mobile app for iOS and Android are updated as new stations are commissioned. The Electric Circuit card also allows users to access VERnetwork's 150 Québec charging stations.
For information:
Louis-Olivier Batty
Hydro-Québec, for the Electric Circuit
514 289-4214
batty.louis-olivier@hydro.qc.ca
There are now 109 charging stations in service on the Island of Montréal:
Dorval (4 charging stations)
Kirkland (2 charging stations)
Montréal (97 charging stations, including 1 fast-charge)
Pointe-Claire (2 charging stations)
Town of Mount Royal (6 charging stations)
To find out the exact location of each station, consult the map: www.lecircuitelectrique.com/trouver-borne.en
Top of page