Candiac, August 17, 2015
Candiac: four new charging stations for electrical vehicles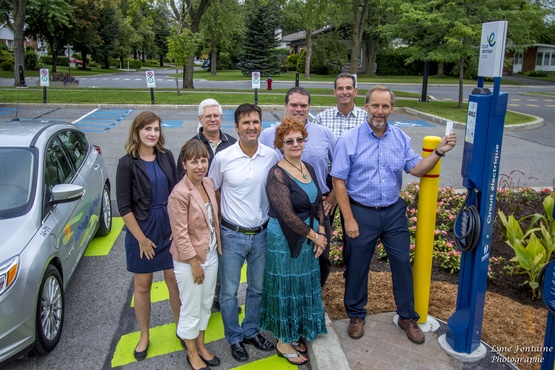 The city of Candiac is pleased to join The Electric Circuit, the largest public charging network in Québec, to offer owners of electric vehicles four charging stations at the following locations: city hall, Complexe Roméo-V.-Patenaude and Centre Claude-Hébert.
"Over the past few years, Candiac has led many efforts to improve its transportation offering, be it active, public or electric, while integrating sustainable development principles. The installation of charging stations is in line with the city's 2014-2029 strategic development plan," said Mayor Normand Dyotte. "We are very pleased to offer this new service to our residents."
"We are delighted that a city such as Candiac now offers a charging service to owners of electric vehicles," said France Lampron, Director – Transportation Electrification at Hydro-Québec, on behalf of Electric Circuit partners. "The installation of these four new charging stations confirms the strong interest in electric mobility in the Montérégie region, which now has a total of 106 public charging stations."
The Electric Circuit
The Electric Circuit is the largest public charging network in Québec. It is a major initiative in the implementation of the infrastructure required to support the adoption of plug-in electric vehicles in Québec. The network comprises close to 450 public charging stations, including 13 fast-charge stations, in operation in select parking lots of the AMT as well as several RONA stores, Metro grocery stores and St-Hubert restaurants across Québec. Since its launch in March 2012, 110 private and institutional partners have joined the Electric Circuit, and the network now has nearly 5,000 members.
Electric Circuit users have access to a 24/7 telephone help line run by CAA-Québec, as well as a charging-station locator service. The Electric Circuit Web site theelectriccircuit.com and the mobile app for iOS and Android are updated as new stations are commissioned.
Information:

Louis-Olivier Batty
Hydro-Québec, for the Electric Circuit
514 289-4214
batty.louis-olivier@hydro.qc.ca
Top of page