Granby, July 16, 2015
Two new Electric Circuit public charging stations

The Granby Zoo contributes to sustainable transportation

Electric Circuit - Zoo de Grnaby charging station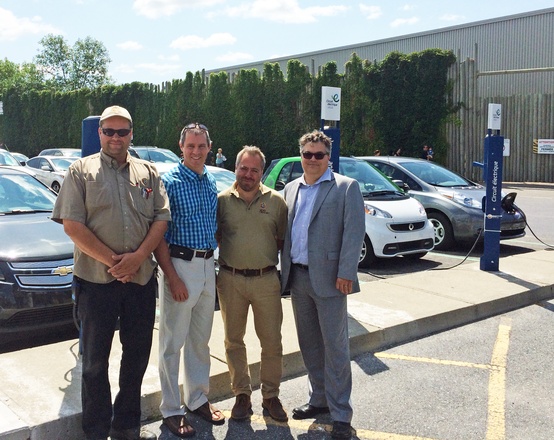 Granby, July 16, 2015 – The Electric Circuit is pleased to announce the signing of a partnership agreement with The Granby Zoo, as well as the commissioning of two new public charging stations for electric vehicles. Visitors can now charge their cars in the main parking lot of the zoo, located at 1050, boul. David-Bouchard Nord.
"The Granby Zoo is proud to do its part to help reduce greenhouse gas emissions with two charging stations for its customers and two charging stations for its employees. And this is only the beginning, thanks to our strategic location as a tourism destination between Montréal and Sherbrooke and the growing enthusiasm for this new technology," said General Manager Paul Gosselin.
"We salute the initiative of Granby Zoo to offer charging stations for electric vehicles to its visitors," said France Lampron, Director – Transportation Electrification at Hydro-Québec on behalf of the founding partners of the Electric Circuit. "In addition to charging their vehicle during their visit and saving on fuel costs, electric vehicle drivers contribute to the zoo's sustainability efforts, which aim to offer a greener environment."
The Electric Circuit is continuing its expansion in the Montérégie region and now offers more than 100 public charging stations.
About The Granby Zoo
The Granby Zoo is a not-for-profit organisation founded in 1953 whose missions are the conservation of threatened species, education and entertainment. The Zoo receives no subsidies towards the financing of its operations. At the peak of the tourist season, it is staffed by over 630 employees. The Granby Zoo's direct and indirect economic impact on its region is estimated at over 50 million dollars annually, a 75% increase since 2004.
About the Electric Circuit
The Electric Circuit is the largest public charging network in Québec. It is a major initiative in the implementation of the infrastructure required to support the adoption of plug-in electric vehicles in Québec. The network comprises over 425 public charging stations, including 12 fast-charge stations, operating across 15 Québec regions. Since its launch in March 2012, 109 private and institutional partners have joined the Electric Circuit, and the network now has over 4,500 members.
Electric Circuit users have access to a 24/7 telephone help line run by CAA-Québec, as well as a charging-station locator service. The Electric Circuit Web site theelectriccircuit.com and the mobile app for iOS and Android are updated as new stations are commissioned. The Electric Circuit card also allows users to access VERnetwork's 150 Québec charging stations.
For information:
Louis-Olivier Batty
Hydro-Québec, for the Electric Circuit
514 289-4214
batty.louis-olivier@hydro.qc.ca
There are now 100 charging stations in service in the Montérégie region:

Acton Vale (1 charging station)
Beloeil (2 charging stations)
Boucherville (12 charging stations, including 1 fast-charge)
Bromont (3 charging stations)
Brossard (7 charging stations)
Candiac (1 charging station)
Chambly (4 charging stations)
Châteauguay (3 charging stations)
Contrecoeur (2 charging stations)
Granby (3 charging stations)
Henryville (1 charging station)
La Prairie (2 charging stations)
Lacolle (2 charging stations)
Longueuil (6 charging stations)
McMasterville (2 charging stations)
Noyan (1 charging station)
Rigaud (1 charging station)
Richelieu (2 charging stations)
Roxton Pond (1 charging station)
Saint-Alexandre (1 charging station)
Saint-Basile-le-Grand (2 charging stations)
Saint-Blaise-sur-Richelieu (1 charging station)
Saint-Bruno-de-Montarville (6 charging stations)
Sainte-Anne-de-Sabrevois (1 charging station)
Sainte-Brigide d'Iberville (1 charging station)
Sainte-Julie (3 charging stations, including 1 fast-charge)
Saint-Georges-de-Clarenceville (1 charging station)
Saint-Hubert (3 charging stations)
Saint-Hyacinthe (4 charging stations)
Saint-Jean-sur-Richelieu (4 charging stations)
Saint-Lambert (2 charging stations)
Saint-Paul-de-l'Ile-aux-Noix (1 charging station)
Saint-Sébastien (1 charging station)
Saint-Valentin (1 charging station)
Sorel-Tracy (5 charging stations)
Valleyfield (1 charging station)
Varennes (2 charging stations)
Vaudreuil-Dorion (3 charging stations)
Venise-en-Québec (1 charging station)
Top of page