Chénéville, June 4, 2015
Public charging stations for electric vehicles in the regional county municipality of Papineau are now operational
Photo inauguration Chénéville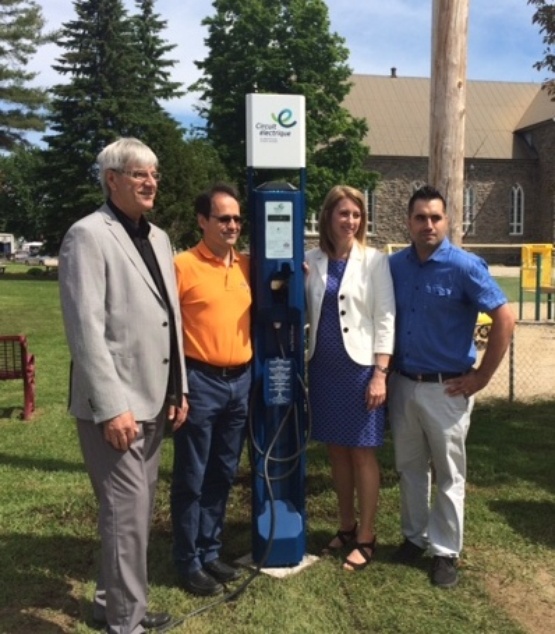 The Electric Circuit is continuing to rollout in the Outaouais and today announced in Chénéville that two of the three charging stations for electric vehicles in the regional county municipality (RCM) of Papineau are now operational; the third one will be commissioned by June 23. Their arrival is the result of an initiative of the CLD Papineau. The charging stations are available at the following locations:
Chénéville: DoRéMi parking lot, rue D'Youville
Namur: parking lot of the community centre, 535, route 323
Thurso: Metro and Desjardins parking lot, 325, rue Victoria (to be commissioned by June 23)
"Offering charging stations for electric vehicles is an important step for the MRC of Papineau. We want to encourage a greener, more sustainable way of getting around. Our MRC has abundant with green spaces and numerous recreational and tourist attractions. The shift towards electric vehicles will help continue to protect this heritage," said Paulette Lalande, Prefect of the MRC and Mayor of Plaisance.
"Our municipality is proud to take part in the efforts to rollout a more ecological mode of transportation and offer this service to tourists who visit our region," said Gilles Tremblay, Mayor of Chénéville.
"We congratulate the MRC of Papineau, the CLD Papineau as well as the municipalities of Chénéville, Namur and Thurso and thank them for their confidence in the Electric Circuit. We are convinced that the addition of public charging stations for electric vehicles will encourage drivers to discover the attractions of the region", said France Lampron, Director – Transportation Electrification at Hydro-Québec, speaking on behalf of the founding partners of the Electric Circuit.
About the Electric Circuit
The Electric Circuit is the largest public charging network in Québec. It is a major initiative providing the charging infrastructure required to support the adoption of plug-in electric vehicles in Québec. The network has over 400 public charging stations in operation, including eight fast-charge stations, in select parking lots of the AMT as well as several RONA stores, Metro grocery stores and St-Hubert restaurants across Québec. Since its launch in March 2012, 108 private and institutional partners have joined the Electric Circuit.
Electric Circuit users have access to a 24/7 telephone help line run by CAA-Québec, as well as a charging-station locator service. The Electric Circuit Web site theelectriccircuit.com and the mobile app for iOS and Android are updated as new stations are commissioned.
Information:
Jérôme Cyr
Rural Development Officer
MRC of Papineau
819 427-6243, extension 1410
j.cyr@cldpapineau.ca
Louis-Olivier Batty
Hydro-Québec, for the Electric Circuit
514 289-4214
batty.louis-olivier@hydro.qc.ca
Top of page