Montréal, April 16, 2014
Hydro-Québec and Sony Announce the Establishment of a Joint Venture to Start Development of a Large-Scale Energy Storage System for Power Grids
Logos Hydro-Québec and Sony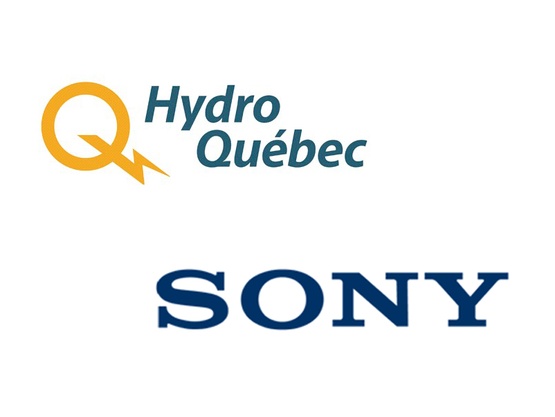 Hydro-Québec and Sony Corporation ("Sony") today announced that they have agreed to establish a joint venture to research and develop a large-scale energy storage system for power grids. Sony and Hydro-Québec plan to establish the new company in June, 2014.
Forecasts indicate that demand for large-scale energy storage systems will increase in the future, to meet high level demand for electric power during peak times, stabilize fluctuations in electricity generated by renewable energy sources such as solar and wind power that are gaining traction, and secure a stable power supply in case of outages or disasters. Furthermore, the energy storage system for such power supplies must be highly safe and reliable due to the need for an efficient and stable source of high capacity power.
The new company will utilize Hydro-Québec's operation and control technologies for electric power supplies as well as its lithium-ion battery material technology, together with Sony's control technologies for highly safe, reliable, olivine-type lithium-ion iron phosphate rechargeable batteries and highly scalable module systems. By combining these strengths, the new company intends to research and develop a highly safe and reliable system for large-scale applications, as well as battery material technology suitable for use within electric power systems, and explore their use in a wide variety of applications, such as meeting excess demand during peak times at electric power substations, and integrating renewable energy sources into power grids.
Comment from Yoshito Ezure, SVP, Corporate Executive, Senior General Manager of Energy Division, Device Solutions Business Group, Sony Corporation
"I am confident that through our partnership with Hydro-Québec, which possesses deep knowledge of lithium-ion rechargeable batteries, we will be able to develop an optimum large-scale energy storage system to meet the demands of customers. In addition to Sony's energy storage systems for the home and office, we will aim to expand our business using the technology produced through our joint development and contribute to the spread of sustainable electricity infrastructure."
Comment from Élie Saheb, Executive Vice President –Technology, Hydro-Québec
"We are delighted to be working with Sony, a pioneer in lithium ion batteries. By combining Hydro-Québec's experience in electricity systems and its R & D work in energy storage with Sony's expertise in lithium-ion battery production, we are creating a world-class joint venture with the necessary expertise to manage the R & D of batteries for renewable energy storage (solar and wind) and the smart grid."
Company Overview
Company Name: To be determined
Date of Establishment: June, 2014 (planned)
Headquarter: Varenne, Québec, Canada
Representative Director: Élie Saheb (Hydro-Québec, Executive Vice President, Technology)
Description of the Business: Research and development of a large-scale energy storage system in electric power supply and battery material technology.
About Hydro-Quebec
Hydro-Québec transmits and distributes electricity. It is Canada's largest electricity producer and one of the world's leading hydropower producers. Its sole shareholder is the Québec government. It uses mainly renewable generating options, in particular hydropower, and supports the development of other sources of energy, e.g. wind and biomass, through purchases from independent power producers. Its research institute, IREQ, conducts research and development work in energy-related fields, including energy efficiency and energy storage. Hydro-Québec invests $100 M in research every year.
www.hydroquebec.com
About Sony Corporation
Sony Corporation is a leading manufacturer of audio, video, game, communications, key device and information technology products for the consumer and professional markets. With its music, pictures, computer entertainment and online businesses, Sony is uniquely positioned to be the leading electronics and entertainment company in the world. Sony recorded consolidated annual sales of approximately $72 billion for the fiscal year ended March 31, 2013.
Sony Global Web Site: http://www.sony.net/
Media Inquiries
Hydro-Québec
Louis-Olivier Batty
Media Officer
+1-514-289-4214
batty.louis-olivier@hydro.qc.ca
Sony Corporation
Corporate Communications & CSR Department
+81-3-6748-2200
Top of page