Montréal, May 22, 2018
Cryptocurrency Mines: Limited Economic Impact
Cryptocurrency Mines: Limited Economic Impact
Hydro-Québec commissioned the firm KPMG to analyze the economic spinoffs of the cryptocurrency mining sector. The study reveals that unless it is associated with additional activities, cryptocurrency mining does not generate many jobs.
The KPMG study assesses direct job creation per MW of power demand. According to the report, the larger the mining operation, the fewer jobs created.
Examples from projects submitted to Hydro-Québec in recent months indicate the following number of direct jobs created:
0.4 per MW for a 250 MW operation
0.7 per MW for a 75 MW operation
1.2 per MW for a 20 MW operation
These results are below those in other sectors that consume large amounts of energy. For instance, in another study conducted in 2017, KPMG concluded that data centers create between 5 and 25 jobs per megawatt.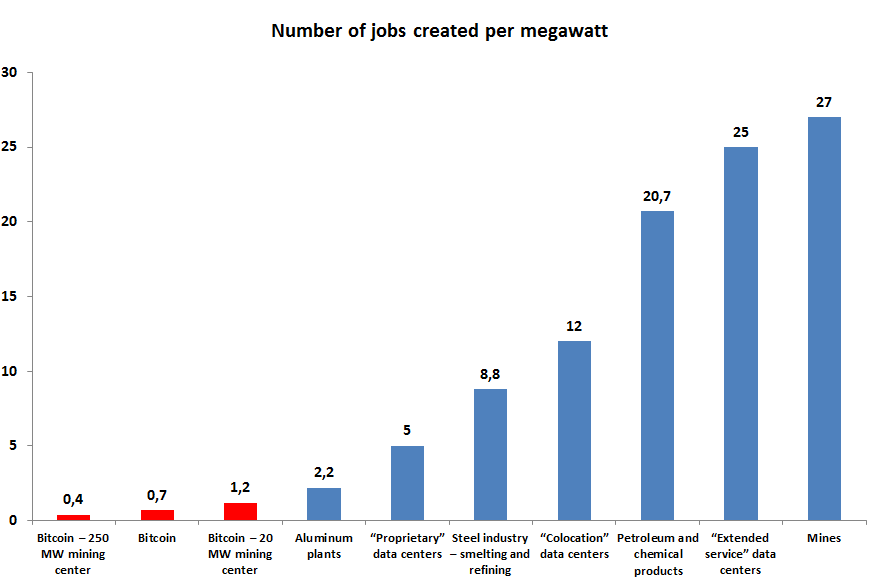 Sources: KPMG, Statistics Canada
Maximizing Economic Spinoffs
KPMG's analysis nonetheless demonstrates that the level of economic value creation has the potential to increase if cryptocurrency mining is accompanied by additional activities. It mentions five activities in the mining global value chain that could maximize economic spinoffs if carried out in Québec:
manufacture, assembly or repair of mining equipment
distribution of mining equipment
software development
research and development
implementation of an IT support service center
Top of page