Gatineau, September 21, 2023
Rivière Gatineau water level restored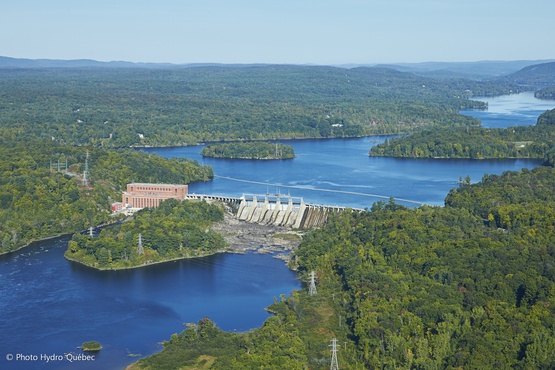 Hydro-Québec is advising people living near Rivière Gatineau upstream of the Chelsea generating station, that the lowering of the river level is now over. The water level was lowered as part of refurbishment work at the generating station.
The contractor completed the removal of the temporary platform a few days ahead of schedule, allowing Hydro-Québec to raise the river to its usual level. This operation began in the evening of Wednesday, September 20. The level should be back in its usual range by the weekend. In September, the river level upstream from the Chelsea generating station usually varies between 97.30 and 97.45 metres.
The Chelsea generation station refurbishment project is now complete, and no further lowering is planned as part of this project.
However, Hydro-Québec would like to reiterate that it operates its facilities according to its rights and the permits granted by the competent authorities. These rights provide for fluctuations in the river level and the consequences that may result. Hydro-Québec cannot be held responsible for the consequences of such variations.
About the work
Hydro-Québec began the refurbishment of Chelsea generating station in spring 2022. The project encompassed the dam deck, accesses and emergency exits. This essential work has ensured the long-term operability of the generating station, which was commissioned in 1927.
Hydro-Québec is aware that the work had an impact on residents and would like to thank them for their patience and understanding.
If you have any questions about this project, please call the Info-Project line at 1 800 465?1521, ext. 6022.
- 30 -
Hydro-Québec
Community Relations –
Lanaudière, Laurentides, Laval and Outaouais
Top of page