Rivière-du-Loup, August 31, 2023
The Electric Circuit introduces new fast-charge stations with power sharing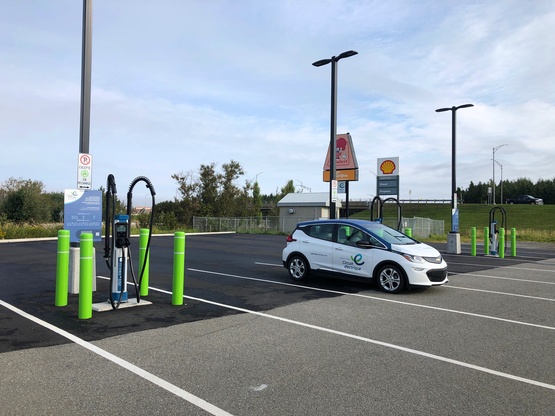 The Electric Circuit is introducing new fast-charging stations with dynamic power sharing and making them available for the first time in Canada in the city of Rivière-du-Loup.
The new Satellites based charging stations are manufactured by Kempower of Finland and distributed in Québec by Bornes Québec. Three dual charging outlets share a total of 500 kW of power that is dynamically distributed among connected vehicles based on their respective charging capacities. Each charging cable can deliver up to 300 kW of power.
"These new stations are a welcomed addition to the Electric Circuit, since they'll simplify the charging experience for our members and maximize the charging power. Our goal remains the same: to make the charging experience as simple and efficient as possible for EV drivers in Québec," said France Lampron, head of the Electric Circuit.
"The Kempower charging stations are already proven to work in Finnish winter conditions. The tried-and-tested technology is perfectly adapted to our climate and the diversity of electric vehicles on Québec's roads," said Guy Lamarche, General Manager of Bornes Québec.
Dynamic power sharing simplifies the charging experience by allocating the maximum power available to each user based on the vehicle's capacity.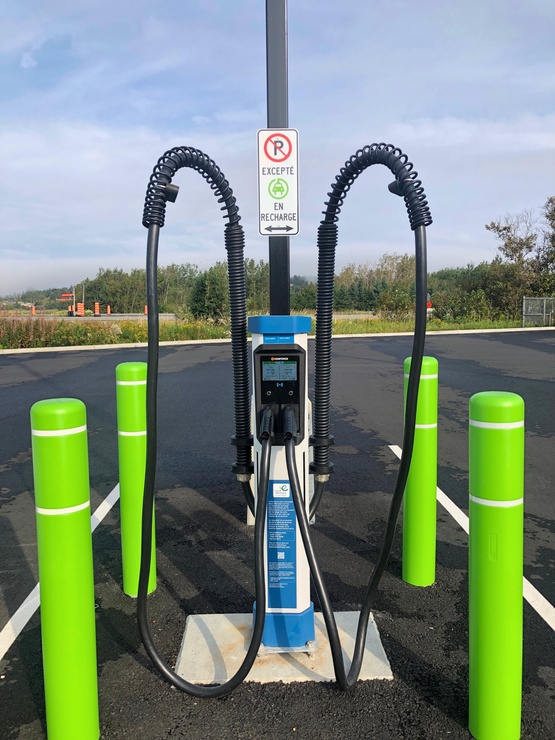 Charging rates
Users won't have to select the power level, which will be set automatically by the charging station and billed based on the vehicle's capacity. The rates at these fast-charge stations are determined in the same way as those that apply at the other fast-charging stations in the Electric Circuit: per-second billing based on power tiers.

An innovative configuration
The configuration of the dual charging stations and cable management system also facilitates charging for all types of EVs. Vehicles hauling trailers and even travel trailers will be able to easily drive in and out, just like they do at gas stations.
The first of these new charging stations will be installed at 80 Boulevard Cartier in Rivière-du-Loup, where St-Hubert restaurant has graciously given up part of its lot to make room for the charging point. St-Hubert is a founding member of the Electric Circuit.

About the Electric Circuit
The Electric Circuit is the largest public charging network for electric vehicles in Québec. It consists of more than 4,500 public charging stations, including over 830 fast-charge stations, in every region of the province. Electric Circuit users have access to a 24/7 telephone help line as well as a charging-station locator service. The Electric Circuit website and app for iOS and Android are updated as new stations are installed. Members can also use their Electric Circuit card or the app to access the ChargePoint network, the FLO network, Shell Recharge and New Brunswick's eCharge network.

About Bornes Québec
Bornes Québec specializes in fast, smart charging stations for electric vehicles. Its personalized support service aims to facilitate the purchase, installation and use of charging stations. Bornes Québec's clients including cities, carriers and transportation electrification companies. Its team of experts brings together engineers, electricians, data analysts, accountants and grant application specialists. From simple residential charging stations to the design and implementation of electrification projects for commercial buildings, real estate developments and other large-scale projects, Bornes Québec is the solution. Use the interactive map to locate the charging stations that are in service.


About Kempower
We design and manufacture reliable and user-friendly DC fast-charging solutions for electric vehicles. Our vision is to create the world's most desired EV charging solutions for everyone, everywhere. Our product development and production are based in Finland, with the majority of our materials and components sourced locally. We focus on all areas of e-mobility, from electric cars, trucks, and buses to machines and marine. Our modular and scalable charging system and world-class software are designed by EV drivers for EV drivers, enabling the best user experience for our customers around the world. Kempower is listed in the Nasdaq First North Growth Market Finland. www.kempower.com
-30-
Top of page