Montréal, September 9, 2021
The Electric Circuit commissions a test bench for ultrafast charging in Laval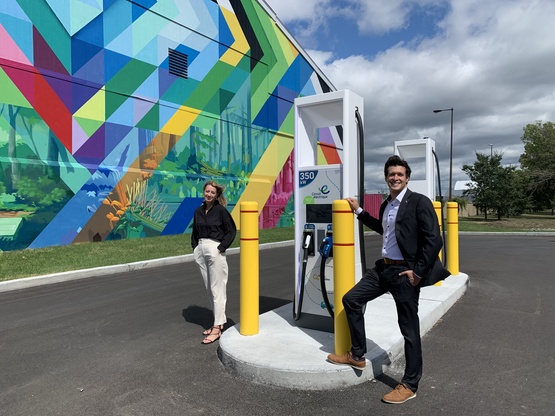 Over the next few years, new electric vehicle models offering even greater range and charging capacities will hit the road in Québec. For this reason, the Electric Circuit has decided to set up test benches on three sites in the province in order to test new technologies designed to charge EVs at 100 kilowatts (kW) or higher. All electric vehicles equipped with a socket that is compatible with fast-charge stations will be able to use the ultrafast charging stations, regardless of their charging speed and capacity.
Today, the Electric Circuit announces the commissioning, in Laval, of its third test bench, located at 1525, rue Cunard, behind the city's municipal garage. EV drivers will be able to charge their vehicles by means of two ultrafast chargers sharing 350 kW and accessible for use by both light and heavier vehicles, such as tool vehicles.
The ultrafast charging site in Laval is unique in that it features a giant mural (more than 540 m2) produced by the Artgang Montréal collective and artists Michelle Hoogveld and Ankh One. The mural has been added to the city's public art collection.
As for the two other test benches, one is located in the Porte-du-Nord rest area off highway 15, in the Laurentides region. It comprises two charging stations with a combined capacity of 125 kW. This other, located in the Magog rest area at exit 115 of highway 10, includes two charging stations of 350 kW and 160 kW, respectively.
The rollout of these three test benches has been made possible thanks to the participation of Hydro-Québec, the city of Laval, Québec's Ministère des Transports and the Government of Canada.
Quotes
"With the addition of these new facilities, the Laval charging network now includes 74 public charging stations. The rollout of ultrafast stations clearly demonstrates our firm resolve to support all means of reducing GHG emissions, and in particular sustainable mobility. Among the measures implemented to fight against climate change, Laval's electromobility initiatives stand out as examples of which we are very proud."
Stéphane Boyer, Deputy Mayor and Vice Chair of the Executive Committee of Laval
"The Electric Circuit has adopted the mission of providing EV drivers with a reliable public charging network equipped with technologies geared to all types of electric vehicles. Charging technologies are evolving rapidly and we're committed to deploying the right types of charging stations, at the right time and in the right places, to support e-mobility throughout Québec."
France Lampron, Director – Mobility at Hydro-Québec
About the Electric Circuit
The Electric Circuit is the largest public charging network for electric vehicles in Québec. It consists of over 3,200 public charging stations, including more than 500 fast chargers, in every region of the province. Electric Circuit users have access to a 24/7 telephone help line as well as a charging-station locator service. The Electric Circuit website, lecircuitelectrique.com/en/, and the Electric Circuit mobile app for iOS and Android are updated as new stations are commissioned. The Electric Circuit card also gives users access to the FLO network and New Brunswick's eCharge network.
Information:
Louis-Olivier Batty
Hydro-Québec, for the Electric Circuit
514 289-4214
batty.louis-olivier@hydroquebec.com
Top of page