Montreal, April 16, 2021
Hydro-Québec submits its 2020 activity report to the Régie de l'énergie
Montréal, April 19, 2021- Hydro-Québec today filed a report on its distribution activities for the year 2020 with the Régie de l'énergie, as required by the Act to simplify the process for establishing electricity distribution rates.
This report, comprising eight documents, covers such topics as electricity service quality, the Distributor's performance regarding customer services, as well as investments in the distribution system.
The documents are available online.
Highlights
Rate freeze: Residential rates remain among the lowest
Since the Act to simplify the process for establishing electricity distribution rates called for a rate freeze in 2020, the Distributor's rates remained among the lowest in North America. Residential customers with a monthly consumption of 1,000 kilowatthours (kWh) continued to pay $73 per month, just as they did in 2019.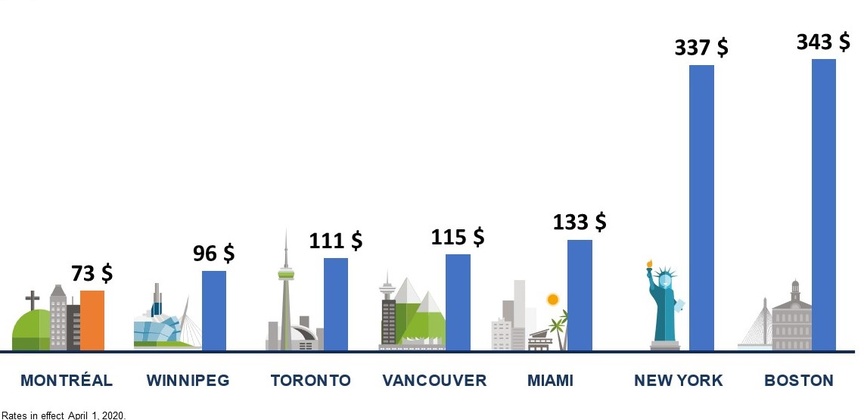 Support for customers in difficult times
The year 2020 was challenging for many of our customers. Hydro-Québec responded by quickly introducing measures to provide them with support during the COVID-19 pandemic. The company's support strategy led to an 84% decrease in the number of collection-related complaints. Overall, complaints received in 2020 were down by 28%.
Improvement in distribution service continuity
The average interruption duration per customer dropped to 256 minutes, a decrease of 65% compared to 2019. This improvement is mainly due to the fact that 2020 was relatively calm from a meteorological standpoint, with fewer and less severe weather events.
Reduction in the average call wait time
The exceptional circumstances in 2020 led to a reduction in the average call wait time, which fell from 103 seconds in 2019 to 96 seconds in 2020.
Energy efficiency: A lever for economic recovery
Even as the energy sector undergoes a transformation, energy efficiency remains at the heart of Hydro-Québec's priorities.
In 2020, the Efficient Solutions Program was expanded. Companies can now benefit from financial support covering up to 75% of eligible expenses for over 200 energy efficiency measures. By taking part in the program, companies can reduce their electricity consumption and contribute to Québec's economic recovery while recouping their investment much faster.
Anyone wishing to consult, comment on or add to the information regarding Hydro-Québec's distribution activities in 2020 may do so by visiting the website designed for this purpose. Comments must be received by Monday, May 3, 2021.
Information:
Hydro-Québec
Public Affairs
514 289-5005
Top of page