Montréal, September 10, 2020
Strategic partnership between Hydro-Québec and Dana Incorporated

Investment of CAN$25 million and important economic benefits for Québec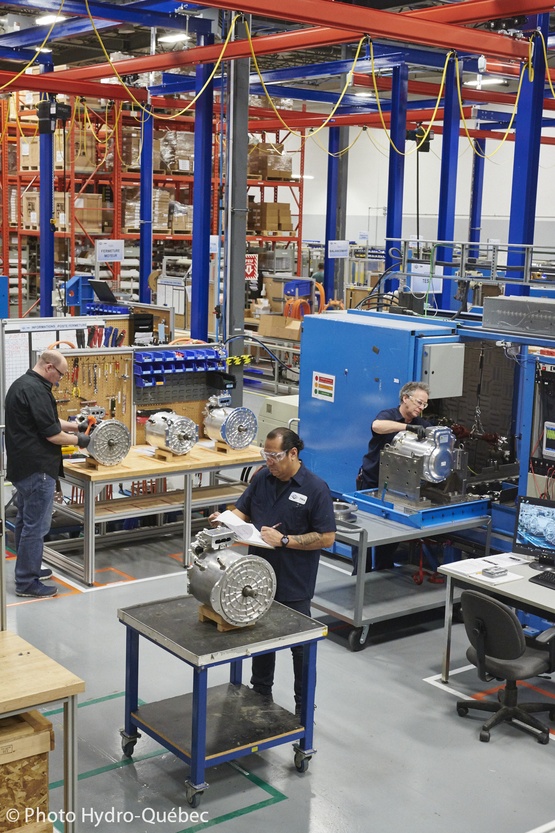 By the end of 2020, Hydro-Québec will have invested over CAN$25 million this year to pursue the growth of Dana TM4 and ensure its leadership in the electric powertrain sector.
These investments are intended to increase the company's international presence:
United Kingdom – In the spring, Dana TM4 acquired Ashwoods Electric Motors, a UK company that provides electric propulsion solutions, such as interior permanent magnet motors used for traction motors, pump motors, and generator systems in passenger vehicle and off-highway applications.
India – This summer, Dana TM4 began construction of a new production facility in India for low- to high-voltage electric motors, inverters, and control units, a market that has strong growth potential, especially for electric buses, trucks, off-highway equipment and small three-wheel vehicles.
United States – In the fall, Dana TM4 will begin construction of an advanced manufacturing line for its new TM4 Motive product offerings. This showcase for TM4's electric motors will be located in Maumee, Ohio, inside one of Dana's facilities. This is a clear indication of how important TM4 technology is to Dana's transportation electrification strategy.
In July 2019, Hydro-Québec invested CAN$85 million to carry out the following strategic investments:
Buyout of its Chinese partner, so that today's manufacturing facilities are now wholly owned by Dana TM4
Acquisition of SME Group, an Italian company that has developed a range of electric motors and controls
Economic spinoffs for Québec
To date, the partnership has generated a number of economic benefits for the province of Québec, such as the creation of 100 new high-quality jobs in Boucherville, primarily in engineering and R&D for vehicle electrification.
Dana TM4's Boucherville facility has been expanded from 4,600 to 6,200 m2 (50,000 to 67,000 sq. ft.) to add new engineering workspaces, reorganize the electronics production line and install a new production line.
Moreover, Dana TM4's sales continue to increase as the commercial vehicle and off-highway segments shift toward electric vehicle applications.
In 2019, Dana also acquired Laval company Nordresa, which supplies controls software and integrates key components of electric powertrains for trucks, such as main and auxiliary engines and batteries; it now supplies Dana TM4™ equipment as well. This acquisition, which will allow the Laval team to expand in the coming years, is additional evidence of Dana's commitment to transportation electrification in Québec businesses.
Quote
"Electric mobility is an irreversible trend that is accelerating worldwide. Our enhanced presence in this market through our various investments positions us advantageously for the future," said Simon Racicot-Daignault, Senior Director – Subsidiaries and Commercial Innovation at Hydro-Québec.
Information:
Louis-Olivier Batty
Media Relations
514 289-4214
batty.louis-olivier@hydro.qc.ca
Top of page