Magog, July 15, 2020
Electric vehicles

Two new Electric Circuit fast-charge stations in Magog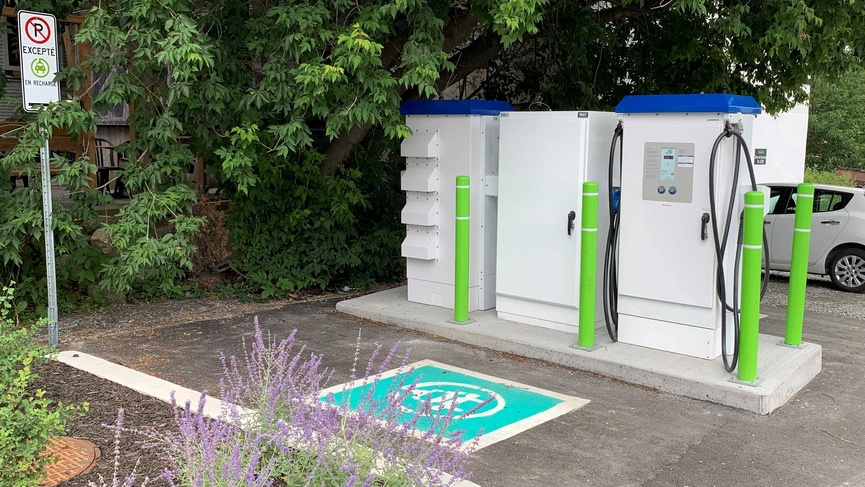 The Electric Circuit and the city of Magog are pleased to provide electric vehicle drivers with two new fast-charge stations located at the La Memphré microbrewery at 12, rue Merry Sud in the heart of downtown.
A fast-charge station can supply about 50 kilometres of range in just 15 minutes.
With these two new stations, Magog now has 22 public charging points, including three fast-charge stations.
Quotes
"With the addition of these two new charging stations in a strategic downtown location, it's clear that Magog is resolutely engaged in its technological and ecological shift. Every step along the way is important. EV owners will now have access to more services on our territory and will be able to take advantage of nearby attractions while their vehicle is charging. We invite them to discover our businesses and restaurants, visit the Centre d'arts visuels de Magog or the Maison Merry and its garden, or go for a walk in the Baie-de-Magog park bordering Lac Memphrémagog."
Vicki-May Hamm, Mayor of Magog
"These two fast-charge stations in the heart of Magog are ideally located for EV drivers to fill up on clean energy. This expansion of the Electric Circuit provides EV drivers with the charging stations they need to get around."
France Lampron, Director – Transportation Electrification at Hydro-Québec
About the Electric Circuit
The Electric Circuit is the largest public charging network in Québec. It consists of more than 2,500 public charging stations, including 315 fast-charge stations, in every region of the province. Electric Circuit users have access to a 24/7 telephone help line as well as a charging-station locator service. The Electric Circuit website and the Electric Circuit mobile app for iOS and Android are updated as new stations are commissioned. The Electric Circuit card also gives users access to the FLO network and New Brunswick's eCharge network.
Information:
Claudia Fortin
Direction des communications et des technologies de l'information
City of Magog
819 843-3333, ext. 444
Louis-Olivier Batty
Press Officer
Hydro-Québec, for the Electric Circuit
514 289-4214
batty.louis-olivier@hydro.qc.ca
Top of page