Montréal, June 1, 2020
The Electric Circuit launches its brand new mobile app for electric vehicle owners!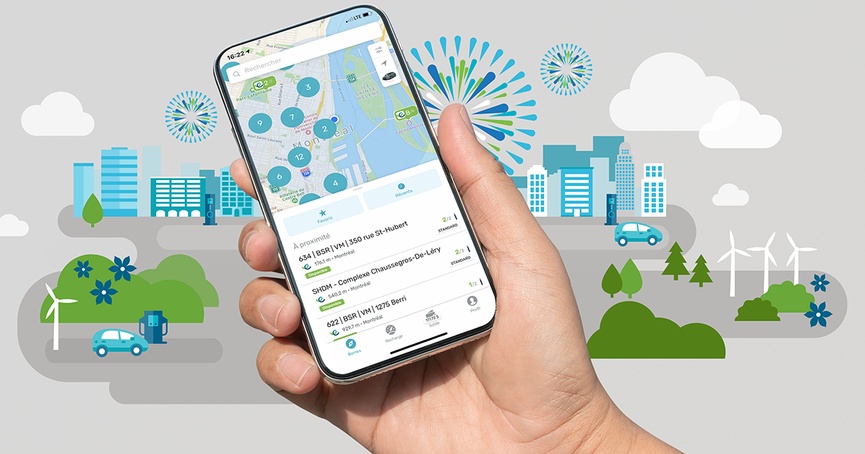 The Electric Circuit, the largest public charging network for electric vehicles (EVs) in Québec, is unveiling today its completely revamped mobile app. The app is sure to become an indispensable tool for all electric vehicle drivers.
Available for free download on Apple and Android mobile devices, the new Electric Circuit mobile app offers more features and a more modern, user-friendly interface.
New features
The new app delivers enhanced basic features, enabling users to locate, identify and activate charging stations remotely, view their charging history, monitor charging and automatically add funds to their Electric Circuit card.
The map used to find charging stations has also been enhanced. Its simplified interface now lets users better locate the Electric Circuit's 2,500-odd public charging stations all across Québec as well as stations that are part of partner networks.
In addition, the user experience is also better than ever, with users now able to customize their profile according to their vehicle. The app also makes it easier to submit comments about a specific location or charging station and to personalize notification preferences.
Quote
"The 2020 version of the Electric Circuit app aims to take the customer experience to the next level. All of its features–whether improved, overhauled or completely new–are designed with the users in mind, with a view to helping them plan their EV trips. We are very proud of the app, and we can't wait for feedback from our members. Driving electric has never been so easy and enjoyable!"
France Lampron, Director – Transportation Electrification, Hydro-Québec
About the Electric Circuit
The Electric Circuit is the largest public charging network in Québec. It consists of more than 2,500 public charging stations, including 305 fast-charge stations, in every region of the province. Electric Circuit users have access to a 24/7 telephone help line as well as a charging-station locator service. The Electric Circuit Web site, theelectriccircuit.com, and the Electric Circuit mobile app for iOS and Android are updated as new stations are commissioned. The Electric Circuit card also gives users access to the FLO network and New Brunswick's eCharge network.
Information:
Louis-Olivier Batty
Hydro-Québec for the Electric Circuit
514 289-4214
batty.louis-olivier@hydro.qc.ca
Top of page