Montréal, November 4, 2019
The hydroelectric facilities in the Eastmain-Sarcelle-Rupert complex have been renamed in memory of Bernard Landry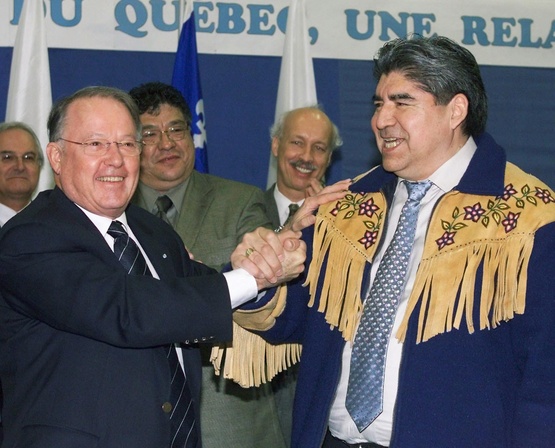 Premier François Legault, accompanied by Grand Chief of the Cree Nation Abel Bosum and former Grand Chief Ted Moses, today paid a posthumous tribute to Bernard Landry by renaming the Eastmain-1 dam and the Eastmain-1-A hydroelectric power plant in memory of the former premier. Moreover, the power plant reservoir is being renamed the Peace of the Braves reservoir, to commemorate the historic agreement concluded in 2002 between the Cree Nation and the Québec government, then headed by Bernard Landry.
The announcement was made in the presence of Bernard Landry's widow, Chantal Renaud-Landry, and his children, Pascale, Julie-Anne and Philippe Landry. Minister of Energy and Natural Resources Jonatan Julien, Minister of Immigration, Francization and Integration Simon Jolin-Barrette, Minister Responsible for Indigenous Affairs Sylvie D'Amours, and Éric Martel, President and Chief Executive Officer of Hydro-Québec, participated in the tribute.
Premier Legault also took advantage of the opportunity to announce that Minister of Culture and Communications Nathalie Roy had designated Bernard Landry as a person of historical importance pursuant to the Cultural Heritage Act.

"When a nation loses a person of Bernard Landry's stature, it has a duty to honour him. We must find a means that is commensurate with our gratitude, the individual's outstanding qualities and his achievements. These designations combine economic, cultural, social and environmental development and reflect Bernard Landry's ambitions for Québec. Premier Landry will always be a model and a source of inspiration for me. I would like to salute his memory on behalf of all Quebecers. I am pleased that we have bolstered the symbolic power of our gesture through sharing with the Cree Nation."
François Legault, Premier of Québec

"The Cree Nation greatly admires Bernard Landry's courage and compassion. What we are experiencing today in Eeyou Istchee James Bay proves that Premier Landry was also a visionary. The Cree Nation and the Québec government have taken and are continuing to take great strides in the realm of collaboration. In 2002, Premier Landry had a vision and he made a commitment to the Cree Nation so that we could assume in concrete terms the roles and responsibilities of the government. This commitment has engendered and will continue to engender long-term spinoff for Québec. To anticipate far in advance this potential and enable two peoples to express their determination to change course and work hand in hand demands visionary leaders who are faithful to their convictions."
Abel Bosum, Grand Chief of the Grand Council of the Crees, Cree Nation Government

"I am pleased that a key facility such as the Eastmain-1 dam is named in honour of Bernard Landry, who contributed significantly to Québec's history and heritage, which this tribute clearly reflects."
Jonatan Julien, Minister of Energy and Natural Resources

"The Bernard Landry Dam rightly reflects the individual's stature and the symbol that he represents for Québec. The honour attributed to him today shows Québec's gratitude."
Simon Jolin-Barrette, Minister of Immigration, Francization and Integration

"Through this designation, we are paying tribute to a politician who helped to shape contemporary Québec and position it as a strong nation in a modern market economy. We are perpetuating the memory of this politician whose legacy has left a concrete, indelible impression on our history. This gesture has considerable value since it is important to keep former Québec Premier Bernard Landry in our collective memory."
Nathalie Roy, Minister of Culture and Communications

"Bernard Landry was a precursor from the standpoint of change. He continues to inspire collaboration between the Québec government and the First Nations and Inuit. The Peace of the Braves is an example of nation-to-nation relations that our government wishes to pursue."
Sylvie D'Amours, Minister Responsible for Indigenous Affairs

"Bernard Landry's legacy is substantial. Thanks to him, our ties with our Cree partners have been durably consolidated. This affords us access to clean, abundant energy, which we can offer to our neighbours to help them reduce their dependence on polluting fossil energies. This tribute is highly symbolic and richly deserved."
Éric Martel, President and CEO, Hydro-Québec
Source :
Louis-Olivier Batty
Spokesperson
Hydro-Québec
514-289-4214
Top of page