Shawinigan, October 24, 2019
The First Fast-Charge Superstation in the Mauricie Region

The Electric Circuit Inaugurates Four Fast-Charge Stations in Shawinigan, in Partnership with Place Biermans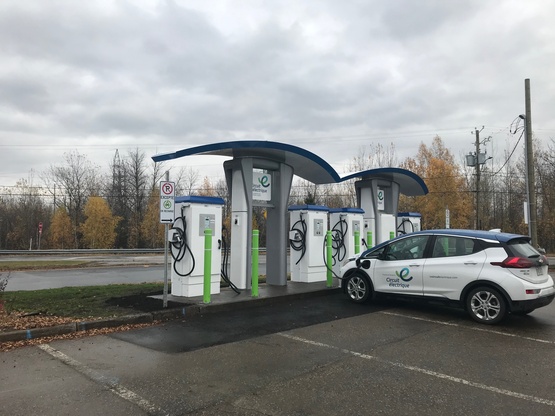 Today, the Electric Circuit and Place Biermans, with Michel Angers, mayor of Shawinigan, in attendance, unveiled a new public fast-charge superstation for electric vehicles.
This first superstation in the Mauricie region is located at popular Place Biermans, near highway 55, the backbone of the Mauricie and Centre-du-Québec road system. The superstation offers four 50-kilowatt fast-charge stations that can charge four vehicles simultaneously.
The charging superstation was funded by Hydro-Québec's Electric Circuit and by Natural Resources Canada as part of its Electric Vehicle and Alternative Fuel Infrastructure Deployment Initiative. Place Biermans generously offered to provide the space for the superstation.
There are currently close to 60,000 electric vehicles registered in Québec, and the Electric Circuit has more than 2,100 charging stations, including 224 fast-charge stations.
Substantial financial support from Natural Resources Canada
Natural Resources Canada has granted close to $5 million in financial support to three Hydro-Québec projects under its Electric Vehicle and Alternative Fuel Infrastructure Deployment Initiative. This funding will help pay for the installation of a hundred fast-charge stations in Québec. The three projects selected involve building 10 superstations, each with four chargers, plus putting in 40 fast chargers on the north shore of the Fleuve Saint-Laurent (St. Lawrence River) and 20 on the south shore.
City of Shawinigan
"In Shawinigan, we've been active in this major shift for a long time: charging stations are manufactured at AddÉnergie and Elmec, we've deployed a network of 20 stations, and now we're getting the first fast-charge superstation in the Mauricie," noted Mayor Michel Angers. "It gives new meaning to our reputation as the City of Energy! But the most important thing is that it gives drivers who have transitioned to electric vehicles more autonomy and freedom every day."
– Michel Angers, Mayor of Shawinigan
Place Biermans
"Place Biermans is proud to partner in this wonderful project with Hydro-Québec and accommodate the Mauricie's first fast-charge superstation."
– Mélanie Bellerive, owner of Place Biermans
Hydro-Québec
"I am delighted that Shawinigan is home to the Mauricie's first fast-charge superstation at an easily accessible site that offers a host of services. This expansion of the Electric Circuit in the region provides EV drivers with the charging stations they need to get around."
– France Lampron, Director – Transportation Electrification at Hydro-Québec and President of Electric Circuit
About the Electric Circuit
The Electric Circuit is the largest public charging network in Québec. It consists of more than 2,100 public charging stations, including 224 fast-charge stations, distributed in sixteen Québec regions. Electric Circuit users have access to a 24/7 telephone help line run by CAA-Québec, as well as a charging-station locator service. The Electric Circuit Web site, theelectriccircuit.com, and the mobile app for iOS and Android are updated as new stations are commissioned. The Electric Circuit card also gives users access to the FLO network and New Brunswick's eCharge network.
Information
Louis-Olivier Batty
Press Officer
Hydro-Québec
514 289-4214
batty.louis-olivier@hydro.qc.ca
Christine Bergeron
Assistant Director
Place Biermans
819 995-2735
cbergeron@placebiermans.com
Top of page