Sainte-Jeanne-d'Arc, May 10, 2019
A fourth fast-charge station in Lac-Saint-Jean

The Crevier service station in Sainte-Jeanne-d'Arc welcomes electric vehicle drivers!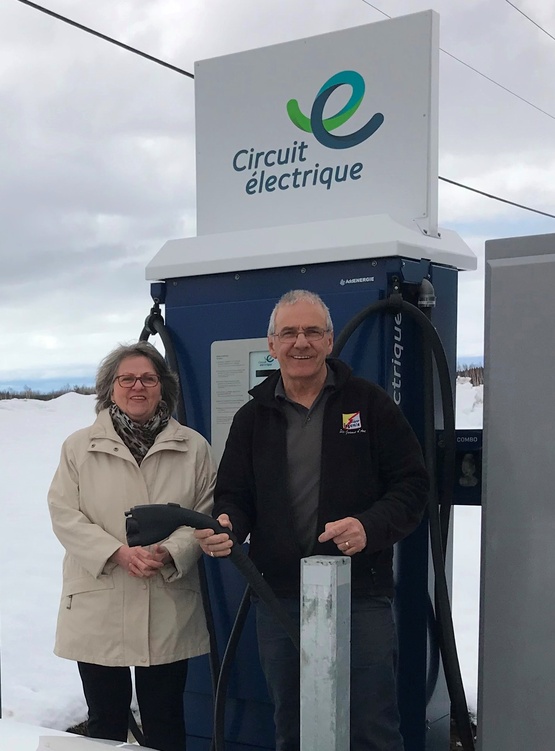 The Electric Circuit and Crevier Group are pleased to announce the activation of a new fast-charge station in Lac-Saint-Jean. In operation for a few months already, the charging station is located on Route 169 at the Sainte-Jeanne-d'Arc Crevier service station, operated by a local retailer-owner Michel Chiasson. This new device ensures quick refuelling for owners of electric vehicles who come through the north part of the lake.
"Saguenay-Lac-St-Jean has always been part of Crevier Group's development strategies, our retailer-owners operate fourteen local service stations, affirms Jean-François Crevier, President of the Group. With the energy transition that's been settling in during the last few years, we're staying attuned to market trends in order to offer drivers multi-fuel stations. Charging points for electric vehicles is a first step in this direction and a response to the demands of clients who've converted to electricity."

"The addition of this fast-charge station, in Sainte-Jeanne-d'Arc, represents a strategic site for the Electric Circuit and for drivers of electric vehicles who will, as of now, have a rapid charging site north of Lac-Saint-Jean. This station is part of 1 600 fast-charge stations that we count on deploying in the area, and everywhere in Québec, over the next ten years, to ensure a network of reliable stations to those who choose electricity to propel themselves," highlights France Lampron, Director of Transportation Electrification at Hydro-Québec.

Saguenay-Lac-Saint-Jean has 39 charging stations for electric vehicles, with 4 fast-charge stations around the lake, specifically in St-Félicien, Lac-Bouchette, Roberval and Sainte-Jeanne-d'Arc.
About Crevier Group
Crevier Group is a third-generation Québec family business and a Canadian leader in energy distribution and industrial lubricants. Founded in 1945 by Émile Crevier, today the company distributes fuel to 220 service stations in Canada. It also acts as a distributor of petroleum products for commercial clients through its wholesale and aviation fuel divisions. Crevier Group is also involved in the distribution of lubricants such as oils, greases, fluids and connected products. Various acquisitions have allowed the organization to distribute its lubricants to over 3 500 clients, spread out in seven provinces, from coast to coast.

About Electric Circuit
Electric Circuit is the largest charging network in Québec. It has close to 2 000 public charging stations, with 180 quick ones, deployed in 16 regions in Québec. Since its inauguration, some 325 private and institutional partners have joined Electric Circuit, and the network now has over 38 000 members.
Electric Circuit's users benefit from a 24-hour helpline, run and managed by CAA-Québec, as well as a station tracking service. The lecircuitelectrique.com website and Electric Circuit mobile application for iOS and Android are progressively updated as new stations are deployed. The Electric Circuit membership card also allows users to access charging stations on the FLO and New Brunswick E-charge networks.
Information:
Louis-Olivier Batty
For Hydro-Québec
514 289-4214
Batty.louis-olivier@hydro.qc.ca
Nathalie Vachon
For Crevier Group
514 208-1817
relations-comm@crevier.ca
Top of page