Saint-Apollinaire, March 11, 2019
Electric Circuit and Groupe Filgo-Sonic Inaugurate EV Charging Superstation in Saint-Apollinaire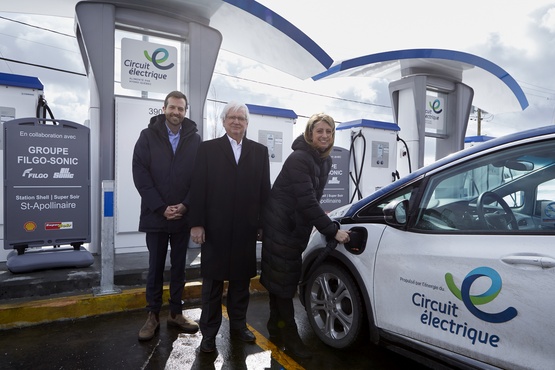 The Electric Circuit and Groupe Filgo-Sonic today unveiled a new public electric vehicle fast-charge superstation in Saint-Apollinaire, with the MP for Louis-Hébert, Joël Lightbound in attendance, representing the federal minister of natural resources, Amerjeet Sohi.
Strategically located at Exit 291 on Highway 20, the busiest road in Québec, this service station of the future has four 50-kW fast-charge stations, so four vehicles can be topped up at the same time. The complex being developed also includes gas pumps and a Super Soir convenience store, as well as several chain restaurants.
The charging superstation was funded by Hydro-Québec's Electric Circuit and by Natural Resources Canada as part of its Electric Vehicle and Alternative Fuel Infrastructure Deployment Initiative. Groupe Filgo-Sonic generously offered to provide the space for the superstation.
There are currently close to 40,000 electric vehicles registered in Québec, and the Electric Circuit offers over 1,700 stations, 176 of them fast chargers.
To keep up with the rollout of stations or find out about transportation electrification, it is now possible to follow the new Electric Circuit Facebook page.
Substantial financial support from Natural Resources Canada
Natural Resources Canada has granted close to $5 million in financial support to three Hydro-Québec projects under its Electric Vehicle and Alternative Fuel Infrastructure Deployment Initiative. That money will help pay for the installation of a hundred fast-charge stations in Québec. The three projects involve building 10 superstations, each with four chargers, plus putting in 40 fast chargers on the north shore of the Fleuve Saint-Laurent (St. Lawrence River) and 20 on the south shore.
Government of Canada
"Investments in green infrastructure will make it easier for Canadians to use travel more ecologically. We are proud to work with Hydro-Québec to give Canadians access to clean, affordable transportation solutions that help reduce pollution and create good jobs for the middle class."
Joël Lightbound, MP for Louis-Hébert and parliamentary secretary to the Minister of Finance of the Government of Canada
Groupe Filgo-Sonic
"Groupe Filgo-Sonic is proud to be working with Hydro-Québec's Electric Circuit to set up fast chargers in its service stations throughout Québec. Our company is driven by the desire to be a key player in innovative projects involving new forms of energy. Through our strong local presence across the province, we strive to give our customers access to a variety of services and energy products."
Michel Lehoux, President and CEO, Groupe Filgo-Sonic
Hydro-Québec
"This new superstation on Highway 20 near the city of Québec is yet another place for electric-vehicle drivers to take advantage of fast chargers. We want to meet the needs of EV drivers who have been asking for more fast-charge stations, and reassure future buyers about the availability of our network."
France Lampron, Director – Transportation Electrification, Hydro-Québec
About Groupe Filgo-Sonic
Groupe Filgo-Sonic is a Québec leader in gas, diesel, heating oil, propane, lubricants and other petroleum product retail and distribution. For over 60 years, we have been meeting the energy needs of the community. We heat homes and keep people moving. We help businesses and farmers achieve their goals. With our strong local presence in Québec, we are driven by the desire to respond to customer needs, and are guided by our vision of serving Eastern Canada. We have also distinguished ourselves in the field of new energies, including biomass and the installation of electric vehicle charging stations with Hydro-Québec. At Groupe Filgo-Sonic, we achieve constant growth targets thanks to the dedication of our 1,300 employees.
About the Electric Circuit
The Electric Circuit is the largest public charging network in Québec. It comprises over 1,700 public charging stations, including 176 fast-charge stations, operating across 16 Québec regions. Since its launch, 325 private and institutional partners have joined the Electric Circuit, and the network now has over 36,000 members.
Electric Circuit users have access to a 24/7 telephone help line run by CAA-Québec, as well as a charging-station locator service. The Electric Circuit Web site, theelectriccircuit.com, and the mobile app for iOS and Android are updated as new stations are commissioned. The Electric Circuit membership card also gives users access to the Canada-wide FLO and New Brunswick-based eCharge networks.
Information:
Louis-Olivier Batty
Press Officer
Hydro-Québec
514 289-4214
batty.louis-olivier@hydro.qc.ca
Manon Leenhardt
Senior Communication Advisor
Groupe Filgo-Sonic
514 347-9415
manon.leenhardt@filgo-sonic.ca
Top of page