Sorel-Tracy, February 1, 2019
Two New Fast-charge Stations for Electric Vehicles in Sorel-Tracy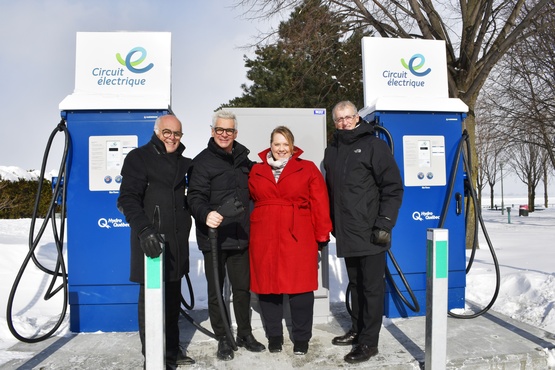 The Electric Circuit and the city of Sorel-Tracy now offer two fast-charge stations in an effort to support drivers of electric vehicles. Installed at the Regard-sur-le-Fleuve park, the new charging stations are in the parking lot located at the end of Rue De Ramezay. Fast-charge stations can charge an all-electric vehicle's battery to 80% in about 20 minutes.
This project was made possible thanks to the financial support provided by Natural Resources Canada under its EV infrastructure deployment initiative.
Quotes
"The government of Canada is proud to help Hydro-Québec develop this electric vehicle charging network, one of the most ambitious of its kind in the world. We will continue to invest in green infrastructure in cities throughout Québec and to encourage people to drive cleaner, more environmentally friendly vehicles."
The Honourable Amarjeet Sohi, Minister of Natural Resources
"In Sorel-Tracy, we believe that by adding these two fast-charge stations in the Regard-sur-le-Fleuve park, near the Catherine-Legardeur dock and the ferry, electric vehicle owners passing through the region will be able to stop for a moment and enjoy the view while charging their vehicle. Adding fast-charge stations is also an incentive for more people to opt for electric mobility. The city of Sorel-Tracy is delighted to partner with Hydro-Québec and intends to continue to support the Electric Circuit's expansion on its territory.
Serge Péloquin, Mayor of Sorel-Tracy
"These new fast-charge stations in Sorel-Tracy offer EV drivers another site to fill up on clean energy. The Electric Circuit's public charging network continues to expand in order to meet the needs of drivers, who are increasingly opting for electric vehicles."
France Lampron, Director – Transportation Electrification at Hydro-Québec
About the Electric Circuit
The Electric Circuit is the largest public charging network in Québec. It is a major initiative designed to provide the charging infrastructure needed to support the adoption of plug-in electric vehicles across the province. At present, the network comprises over 1,750 public charging stations (including nearly 170 fast-charge stations) in 16 Québec regions. Over 315 private and institutional partners have joined the Electric Circuit since its launch in March 2012. The network now has more than 35,000 members.
Electric Circuit users have access to a 24/7 telephone help line run by CAA-Québec, as well as a charging-station locator service. The Electric Circuit Web site, theelectriccircuit.com, and the mobile app for iOS and Android are updated as new stations are commissioned. The Electric Circuit card also gives users access to the Canada-wide FLO and New Brunswick-based eCharge networks.
Information:
Louis Latraverse
Communications Lead
City of Sorel-Tracy
450 780-5600, ext. 5716
louis.latraverse@ville.sorel-tracy.qc.ca
Louis-Olivier Batty
Media Officer
Hydro-Québec, for the Electric Circuit
514 289-4214
batty.louis-olivier@hydro.qc.ca
Top of page