Montréal, March 1, 2016
The Electric Circuit: An Essential Part of the Shift to Electric Transportation
Hydro-Québec wishes to correct certain statements published in articles by Pierre Couture and Pierre-Paul Biron in Le Journal de Québec on February 29 and March 1 respectively, regarding the use of Electric Circuit charging stations.

First, a public charging network and a network of service stations cannot be compared since the underlying principles are diametrically opposed. Over 90% of a plug-in vehicle's basic charging needs are met at the owner's home. Contrary to a traditional vehicle, for which the only fuel supply point is a service station, an electric vehicle leaves its owner's home every morning with a fully charged battery. Consequently, the Electric Circuit's network of public charging stations is designed to meet only occasional needs (the remaining 10%) that can arise when running several errands or on longer recreational outings, for example.

Moreover, we know for a fact that in Québec, as elsewhere in the world, consumers would like to have access to a public charging network before purchasing an electric vehicle. The proof is that over 80% of Québec's plug-in vehicle owners are members of the Electric Circuit.

For that reason, the Electric Circuit's mission is to support the adoption of plug-in vehicles on our roads by allowing their drivers to travel with peace of mind. To that end, a network of over 600 charging stations has been put in place across Québec, and new stations are being added every week.

The use of recharging stations has grown exponentially since the network was launched, as the graph below shows. Over the last year, the number of monthly charges has climbed from 2,500 to 6,366 for the entire network, a jump of nearly 255%. This information was provided to the Journal de Québec.
Changes in Electric Circuit Charging Sessions at December 31, 2015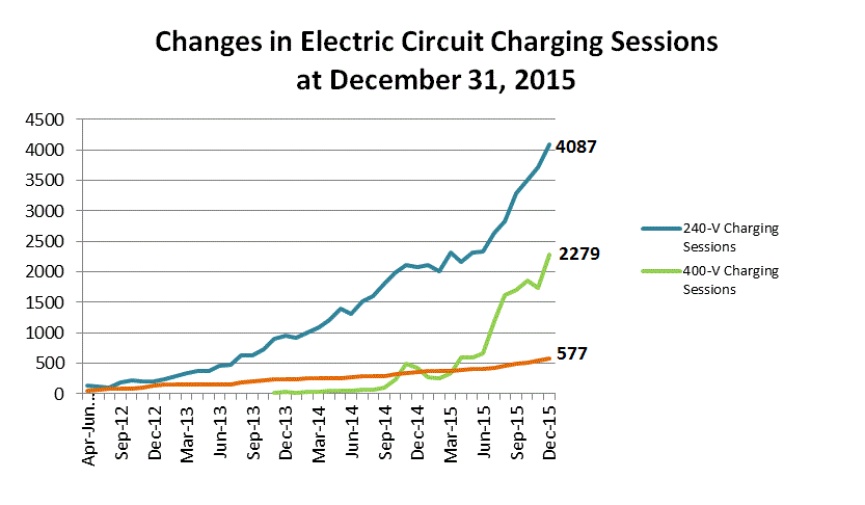 Moreover, our 6,854 members show a 93% satisfaction rate, proving that the Electric Circuit is meeting a real need.
In regard to the comments about public investments, it is important to understand that the business model established by Hydro-Québec is one of a kind and sets the standard for North America because it is based on cost-sharing with private, public and institutional partners who have decided to join forces with the Electric Circuit. All in all, they are 135 forward-thinking companies, institutions and municipalities who believe in the future of electric transportation and the Electric Circuit model and who are paying the cost of the charging stations and their installation.
Hydro-Québec is proud of its leadership role in public charging infrastructure, and it firmly intends to continue expanding that infrastructure to pave the way for increasing numbers of electric vehicles on Québec's roads.
Information:
Geneviève Chouinard
Media Officer
Hydro-Québec, for the Electric Circuit
514 289-2211, ext. 6040
Top of page