Montréal, February 29, 2016
Québec supplier AddÉnergie wins tender call for 1,500 Electric Circuit 240-V charging stations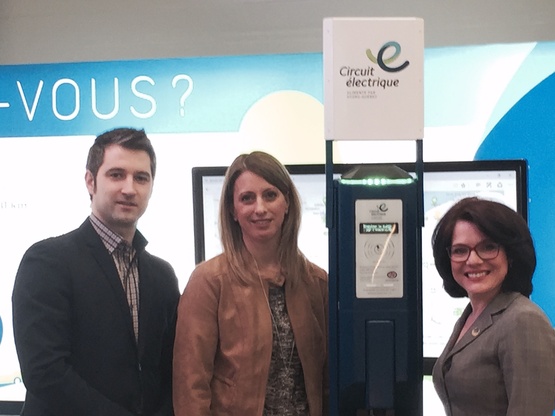 AddÉnergie has won the tender call launched by Hydro-Québec, on behalf of the partners of the Electric Circuit to supply 1,500 charging stations at 240 volts. The four-year contract will come into effect in April 2016.
Bids were evaluated using the same protocol that allowed the Electric Circuit to reach a satisfaction rate of 93% among our users. Thorough testing was carried out and comprising a number of criteria, including product robustness, bid price, user-friendliness and after-sales service. In addition, the proposed charging stations went through rigorous climate testing at Hydro-Québec's research institute in January and February to make sure they could withstand the rigors of Québec weather.
"We are proud to have a company from the city of Québec like AddÉnergie that distinguishes itself and contributes to the expansion of the Electric Circuit," said Véronyque Tremblay, MNA for Chauveau. "Today's announcement falls perfectly in line with our government's transportation electrification plan that supports Québec's economic development and encourages drivers to reduce their carbon footprint."
"We are very pleased to continue our collaboration with AddÉnergie for the rollout of Electric Circuit charging stations," said France Lampron, Director – Transportation Electrification at Hydro-Québec, on behalf of the founding partners of the Electric Circuit. "AddÉnergie once again set itself apart in terms of value for price-quality report of its offer. This is the third tender call that AddÉnergie has won, which demonstrates the company's professionalism."
"It's an honor for AddÉnergie to win Hydro-Québec's tender call a third time. This announcement confirms the attention we give to customer service and manufacturing quality products. The advanced technologies we develop are testified through our successes and our current growth," said Louis Tremblay, President and Chief Executive Officer of AddÉnergie. "This renewed trust from Hydro-Québec to expand the Electric Circuit is great news for us and all electric vehicles driver. Thank you."
Increasing the number of electric vehicles on Québec roads
Québec is committed to transportation electrification, namely through the Transportation Electrification Action Plan 2015-2020. The large-scale rollout of electric vehicles will significantly help reduce greenhouse gas emissions related to passenger transportation thanks to Québec's renewable energy—hydropower.
The Electric Circuit will offer 800 charging stations by the end of 2016, including 60 fast-charge stations.
About ADDÉnergie
AddÉnergie is the Canadian leader in smart charging solutions for electric vehicles. The company develops, manufactures and operates charging solutions for all market segments such as the public sector, employers, multi-residential, fleets, residential, etc. The company is the provider of the charging infrastructure for the Electric Circuit and the VERnetworkTM, the two largest charging station networks in Canada, with more than 2,000 charging stations. AddÉnergie provides the products and software necessary to manage these networks. AddÉnergie will soon launch new networks with international partners.
About the Electric Circuit
The Electric Circuit is the largest public charging network in Québec. It is a major initiative in the implementation of the infrastructure required to support the adoption of plug-in electric vehicles in Québec. The network comprises over 600 public charging stations, including 30 fast-charge stations, in operation across 16 Québec regions. Since its launch in March 2012, 135 private and institutional partners have joined the Electric Circuit, and the network now has over 6,500 members.
Electric Circuit users have access to a 24/7 telephone help line run by CAA-Québec, as well as a charging-station locator service. The Electric Circuit Web site theelectriccircuit.com and the mobile app for iOS and Android are updated as new stations are commissioned. The Electric Circuit card also allows users to access VERnetwork's 150 Québec charging stations.
Information:
Geneviève Chouinard
Press Officer
Hydro-Québec, for the Electric Circuit
514 289-2211, extension 6040
Top of page