Montréal, January 14, 2016
The Electric Circuit adds a new hourly rate to better meet the needs of users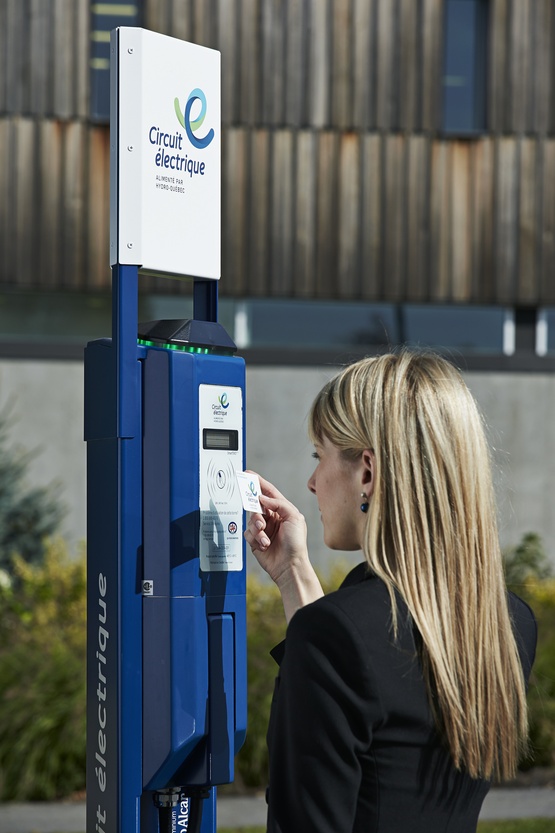 To better meet the different needs of the network's users, the Electric Circuit will offer its partners the choice for 240-V charging between a flat fee or an hourly rate based on the amount of time a customer spends at a charging station. This new pricing option will come into effect on February 1, 2016.
"We are delighted to offer this new rate, which meets a need expressed by our users," said France Lampron, Director – Transportation Electrification at Hydro-Québec. "The Electric Circuit now has over 130 partners that offer different services. Each one can now select the pricing option that it deems most beneficial to its customers. Electric Circuit users will be able to consult the mobile app or the Web site to find out which rate applies to each charging station. This information will also be clearly indicated on charging stations, either with a sticker or directly on the electronic screen."
For example, in the parking lots of the AMT, where drivers generally leave their vehicles for a longer period, the rate at the 240-V charging station will remain $2.50 per charging session. For partners such as Les Rôtisseries St-Hubert, Rona and Metro, the rate will be $1/hour, which is more in line with the time customers spend at these types of businesses.
Rates at Electric Circuit charging stations will be the following:
Standard 240-V charging station: $2.50 per session or $1/hour, billed by the minute, depending on the station
Curbside charging station: $1/hour, billed by the minute
400-V fast charging station: $10 per hour, billed by the minute
The rate applicable at each charging station will be available on the Electric Circuit Web site, on the mobile app and directly on the charging station.
About the Electric Circuit
The Electric Circuit is the largest public charging network in Québec. It is a major initiative in providing the infrastructure required to support the adoption of plug-in electric vehicles in Québec. The network comprises nearly 600 public charging stations, including 29 fast-charge stations, operating across 16 Québec regions. Since its launch in March 2012, 131 private and institutional partners have joined the Electric Circuit, and the network now has over 6,500 members.
Electric Circuit users have access to a 24/7 telephone help line run by CAA-Québec, as well as a charging station locator service. The Electric Circuit Web site theelectriccircuit.com and the mobile app for iOS and Android are updated as new stations are commissioned. The Electric Circuit card also allows users to access VERnetwork's 150 Québec charging stations.
Information:
Louis-Olivier Batty
Hydro-Québec, for the Electric Circuit
514 289-4214
batty.louis-olivier@hydro.qc.ca
Top of page