Saint-Georges, January 7, 2016
Les Pères Nature goes green: The food retailer installs a fast-charge station for all-electric vehicles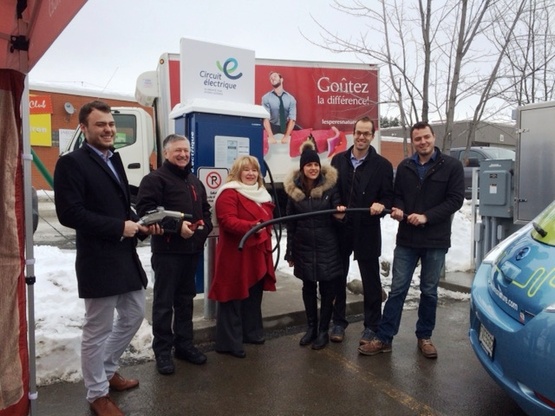 On December 23, the Les Pères Nature store in Saint-Georges officially inaugurated an Electric Circuit fast-charge station for all-electric vehicles. The station is located in the store's parking lot at 10735, 1ère Avenue. It is the first fast-charge station in the Beauce-Sartigan RCM.
This initiative reflects the company's desire to go green and contribute to a cleaner environment. The installation of this charging station is a first step toward that goal.
Making electric vehicles more accessible
Through this initiative, the company's four co-owners also want to encourage their customers and local residents to purchase an electric vehicle. The choice of a fast-charge station is an essential part of their strategy; with this type of charging station, an all-electric vehicle can be charged in less than 30 minutes. Les Pères Nature will also be giving out $250 gift certificates valid through the end of 2016 to all its Beauce region customers who own a fully electric car.
The company also plans to revamp its fleet of company vehicles in the near future to make it fully electric. It has just purchased a Nissan Leaf with that goal in mind.
An investment for future generations
This project was made possible thanks to financial contributions from Hydro-Québec and Nissan Canada, along with funding from Les Pères Nature.
"Les Pères Nature has always been a leader, whether in terms of customer service or community involvement," stated Maréva Bédard on behalf of the business's four co-owners. "It's only natural to do our part for important causes like eliminating food waste and protecting the environment. We are delighted to announce this project and take concrete actions to leave future generations a healthier environment."
"With the installation of this fast-charge station, local residents will have further opportunities to turn to greener, renewable sources of energy and support sustainable development in their communities. This initiative shows that it's possible to combine environmental protection and growth for local businesses," noted Paul Busque, MNA for Beauce-Sud.
"Nissan Canada is proud to be a major partner of the Electric Circuit's expansion. This expansion will allow electric vehicle drivers an easy access to numerous fast-charge stations available throughout the province, including this new one in Saint-Georges. We are delighted that zero-emission vehicles like the Nissan LEAF are now even more accessible to Québec consumers who wish to make a difference in how they drive. Together, we are united in showing that zero-emission mobility is a smart choice," said Joni Piva, President of Nissan Canada Inc.
"We would like to salute the efforts of Les Pères Nature, an innovative family business. Initiatives like this one help pave the way for increasing numbers of electric vehicles on our roads," said Gina Savard, Electric Circuit spokesperson and Manager – Community Relations at Hydro-Québec.
About Les Pères Nature
Les Pères Nature is a food retailer with two locations, in Sainte-Marie and Saint-Georges. Along with a restaurant and catering service, it boasts all the usual departments: a meat counter, a fish counter, a baked goods department, a ready-made foods counter and a deli section. Its goal is to offer Beauce residents a wide selection of local and international products, while its employees strive to help shoppers discover the pleasures of the table by providing fresh, high-quality products at a fair price.
About the Electric Circuit
The Electric Circuit is the largest public charging network in Québec. It is a major component of the infrastructure required to support the adoption of plug-in electric vehicles in Québec. The network comprises 575 public charging stations, including 29 fast-charge stations, across 16 Québec regions. Since its launch in March 2012, 131 private and institutional partners have joined the Electric Circuit, and the network now has over 6,500 members.
Electric Circuit users have access to a 24/7 telephone help line run by CAA-Québec as well as a charging-station locator service. The Electric Circuit Web site, theelectriccircuit.com, and the mobile app for iOS and Android are updated as new stations are commissioned. The Electric Circuit membership card also gives users access to VERnetwork's 150 Québec charging stations.
Information:

Maréva Bédard
Co-owner
Les Pères Nature
418 227-4444
Louis-Olivier Batty
Hydro-Québec, for the Electric Circuit
514 289-4214
batty.louis-olivier@hydro.qc.ca
Diane Faucher
Media Relations
Office of Paul Busque, MNA for Beauce-Sud
418-226-4570
A total of 12 charging stations are now in service in the Chaudières-Appalaches region.
Disraeli (1 station)
Laurier-Station (1 station)
Lévis (3 stations, including 1 fast-charge station)
Montmagny (1 station)
Sainte-Marie (2 stations, including 1 fast-charge station)
Saint-Georges (2 stations, including 1 fast-charge station)
Saint-Nicolas (1 station)
Thetford Mines (1 station)
To find out the exact location of each station, consult the map: https://www.lecircuitelectrique.com/find-a-station.
Top of page