Montréal, December 22, 2015
John Abbott College and the Electric Circuit offer four new public charging stations for electric vehicles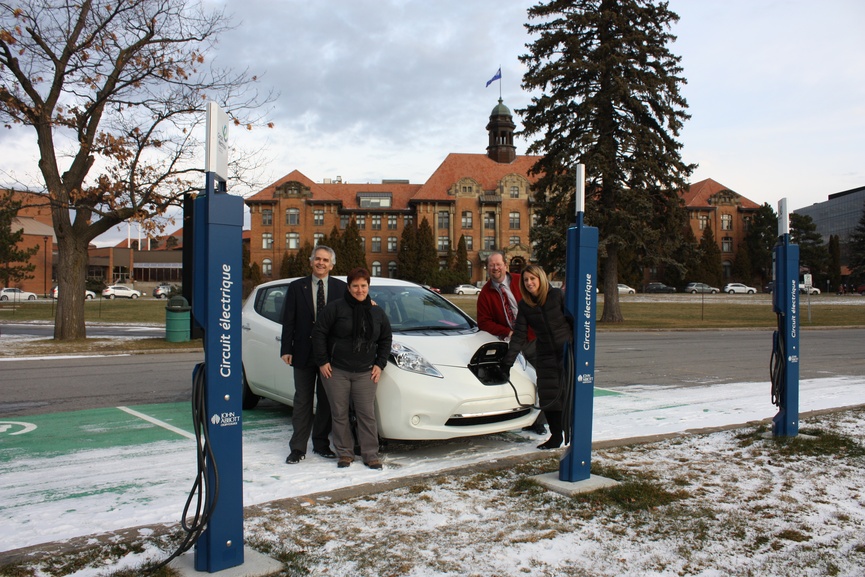 The Electric Circuit is pleased to announce the signing of a partnership agreement with John Abbott College as well as the commissioning of four new public charging stations for electric vehicles. Visitors can now charge their cars in the parking lot of the college, located at 21275 Rue Lakeshore in Sainte-Anne-de-Bellevue.
"We are thrilled to have four public charging stations on our campus. Their presence will surely help sway community members to choose cleaner forms of transportation. This marks another step towards making our campus ecologically sustainable," said Erich Schmedt, Academic Dean at John Abbott College.
"We are delighted to welcome John Abbott College to our network," said France Lampron, Director – Transportation Electrification at Hydro-Québec on behalf of the founding partners of the Electric Circuit. "By offering charging stations for electric vehicles, the college is contributing to transportation electrification and supporting electric vehicle drivers."
"On behalf of the Québec government, I would like to congratulate John-Abbott College for this initiative that demonstrates its strong interest in electric mobility. This action is in line with our Transportation Electrification Action Plan 2015-2020, which calls for an increase in the number of public charging stations for electric vehicles," said Robert Poëti, Minister of Transport and Minister responsible for the Montréal region.
With the inauguration of these four charging stations at John Abbott College, there are now 129 charging stations in service in the Montréal area.
About John Abbott College
John Abbott College is a public Anglophone college serving students since 1971. Today, the increasingly diverse student body includes over 6,500 fulltime day students and an additional 2,000 continuing education students. John Abbott is situated on the western tip of the Island of Montreal.
About the Electric Circuit
The Electric Circuit is the largest public charging network in Québec. It is a major initiative in the implementation of the infrastructure required to support the adoption of plug-in electric vehicles in Québec. The network comprises over 570 public charging stations, including 27 fast-charge stations, in operation across 16 Québec regions. Since its launch in March 2012, 130 private and institutional partners have joined the Electric Circuit, and the network now has over 6,000 members.
Electric Circuit users have access to a 24/7 telephone help line run by CAA-Québec, as well as a charging-station locator service. The Electric Circuit Web site, theelectriccircuit.com, and the mobile app for iOS and Android are updated as new stations are commissioned. The Electric Circuit card also allows users to access VERnetwork's 150 Québec charging stations.
For information:
Louis-Olivier Batty
Hydro-Québec, for the Electric Circuit
514 289-4214
batty.louis-olivier@hydro.qc.ca
Debbie Cribb
Media Relations
John Abbott College
514-457-6610, extension 5354
debbie.cribb@johnabbott.qc.ca
Top of page