Sainte-Julie, September 25, 2015
Côte-Nord Featured at The Électrium: Discover A Couple of Energetic 50-Year-Olds!
Building the Manicouagan-2 dam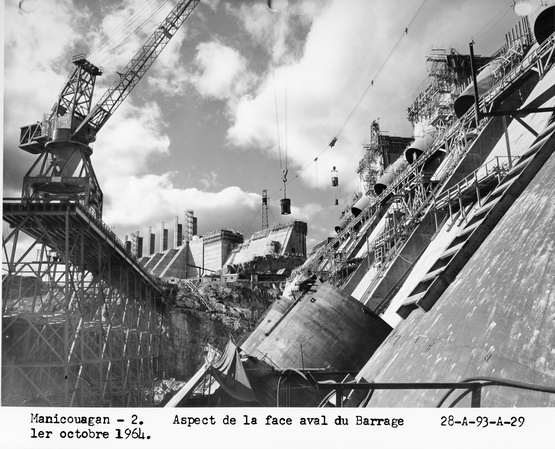 A historical exhibition highlighting the 50 years of Jean-Lesage generating station (Manic-2) and the first high-voltage (735-kV) power transmission line opens at The Électrium on September 25, as part of the Journées de la culture.
Temporary exhibition on building Manic

Whether you're a fan of huge construction projects or just naturally curious, come to The Électrium to feel the spirit of the '60s and relive some key moments in our history. The exhibition includes archival photos and artifacts from the building of the enormous dams on the Côte-Nord and the first electricity "highway."
Movies take you back
The huge Manicouagan construction sites also made a big impression on the imaginations of a generation of artists like Gilles Vigneault, Georges Dor, Michel Brault, Arthur Lamotte and Henri Vernes (creator of Bob Morane).
In keeping with this year's Journées de la culture theme, cinema, The Électrium has dug up some movies from the '60s that illustrate Québec's entrance into the modern world. The nonstop screening of contemporary documentaries show life at Manic and great feats of Québec engineering.
Québec engineering triumphs
The first huge construction project of the Quiet Revolution, the Manic-Outardes complex was a major milestone in hydropower development in northern and northeastern Québec. Jean-Lesage generating station (Manic-2), the first in the complex, has now been in operation for half a century. It's one of Hydro-Québec's proudest achievements.
The company is also justifiably proud of being the first in the world to transmit electricity at a 735 kV—an unparalleled technological breakthrough. On November 29, 1965, power from Jean-Lesage generating station started flowing over a 735-kV line. Its route is historic: the 675 km from the power plant to Montreal, by the way of Boucherville substation, were covered faster than ever!
The exhibition continues until spring 2016.
Côte-Nord prizes
See the exhibition during the Journées de la culture and get a chance to win one of the three prizes honouring the Manic-Outardes complex generating stations.
Free guided tours
You can also tour the interpretation centre with experienced guides and discover the many faces of electricity. Your curiosity is bound to be satisfied!
To find out The Électrium's hours during the Journées de la culture, go to www.hydroquebec.com/visit or call 450 652-8977 or, toll-free, 1 800 267-4558.



For information :
Mathieu Rouy
Hydro-Québec
rouy.mathieu@hydro.qc.ca
514 289-2311
Top of page