Montmagny, May 28, 2015
The charging station in Montmagny is now in operation
Photo inauguration officielle borne de recharge Ville de Montmagny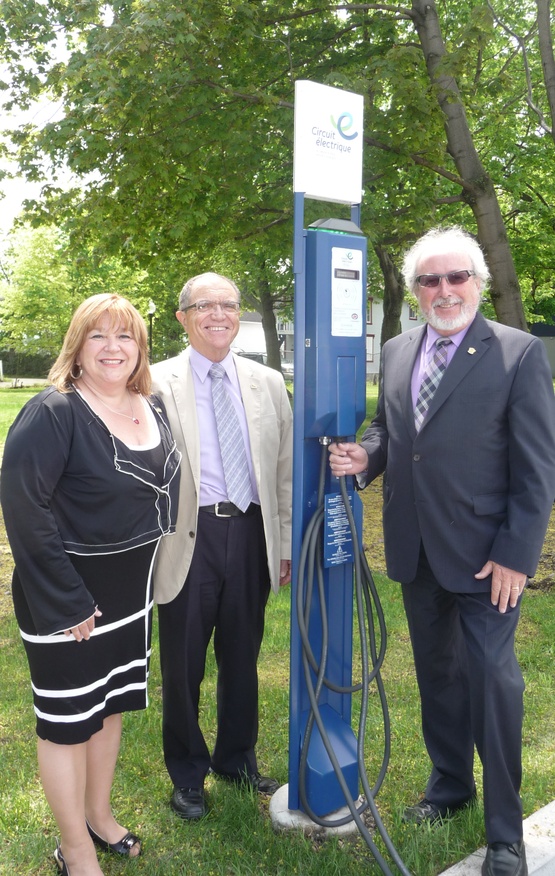 During the Québec International Auto Show this past March, the Electric Circuit announced that a public charging station for electric vehicles would soon be available in Montmagny. Today, the city of Montmagny and The Electric Circuit are proud to announce that the charging station is operational and ready to serve its first users. This charging station is located in the parking lot of the municipal library, located at 138, rue St-Jean-Baptiste Est, next to the public market in downtown Montmagny.
"With gas prices fluctuating constantly, it comes as no surprise that electric cars are gaining in popularity and that the number of charging stations is increasing in Québec. It is with the aim of providing better service to car drivers who are passing through our region while doing our bit to preserve the planet that we have decided to join the Electric Circuit. And since the Electric Circuit is a reference for owners of electric vehicles, the charging station we have installed is one more reason for them to stop by Montmagny. Just ahead of the tourism season, the timing is perfect," said Jean-Guy Desrosiers, Mayor of Montmagny.
"Electric vehicle users can now stop in Montmagny to fill up on clean energy," said France Lampron, Director – Transportation Electrification at Hydro-Québec, on behalf of the founding partners of the Electric Circuit. "Thanks to its commitment, the city of Montmagny is contributing to expanding the service offering for the growing number of electric vehicles owners."
About the Electric Circuit
The Electric Circuit is the largest public charging network in Québec. It is a major initiative providing the charging infrastructure required to support the adoption of plug-in electric vehicles in Québec, with close to 400 stations, including 8 fast-charge stations, in parking lots of the AMT, RONA stores, Metro grocery stores and St-Hubert restaurants throughout Québec. Since its inauguration in March 2012, 108 private and institutional partners have joined The Electric Circuit.
Electric Circuit users have access to a 24/7 telephone help line run by CAA-Québec, as well as a charging-station locator service. The Electric Circuit Web site theelectriccircuit.com and the mobile app for iOS and Android are updated as new stations are commissioned.
Source:
Émilie Laurendeau
Montmagny regional communications
418 248-3361, extension 2063
Information:
Bernard Létourneau
Ville de Montmagny
418-248-3361, extension 2010
Louis-Olivier Batty
Hydro-Québec, for the Electric Circuit
514 289-4214
Top of page