Richelieu, May 25, 2015
The city of Richelieu gets its first public charging station
Charging Station Ville de Richelieu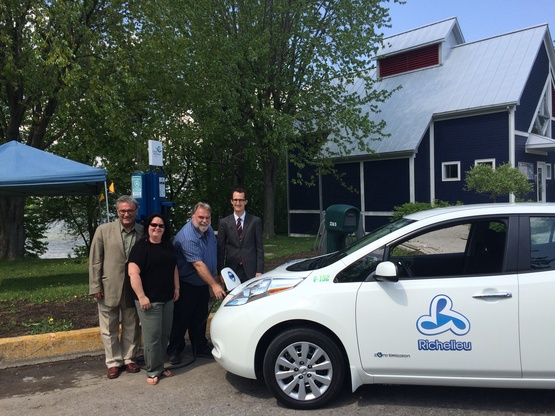 The Electric Circuit and city of Richelieu are pleased to announce the commissioning of a new public charging station for electric vehicles in Richelieu. The charging station is located at 2365 Chemin des Patriotes, in the parking lot of the tourist information office. The city has also purchased an electric vehicle.
"Thanks to the Electric Circuit, we have a new way to promote alternative modes of transportation and reduce our environmental footprint. This is right in line with our municipal policies," stated the mayor, Mr. Jacques Ladouceur.
"We are delighted that a city such as Richelieu now offers a charging service to owners of electric vehicles," said France Lampron, Director – Transportation Electrification at Hydro-Québec, on behalf of Electric Circuit partners. "The installation of this new charging station confirms the strong interest in promoting electric transportation in the Montérégie region, which now has a total of 96 public charging stations."
The Rouville regional county municipality and the CLD au Coeur de la Montérégie each contributed 33% to install this public charging station in the parking lot of the tourist information office. This collaboration will help to promote electrical transportation and will also support various organizations in their efforts to increase tourism in the region.
A first-ever electric vehicle
In addition to joining the Electric Circuit, the city purchased its first-ever electric vehicle, a Nissan Leaf, for the municipal inspector, the director of public works and other municipal employees to get around. This gesture reaffirms the municipality's commitment to environmental responsibility.
The Electric Circuit
The Electric Circuit is the largest public charging network in Québec. It is a major initiative in the implementation of the infrastructure required to support the adoption of plug-in electric vehicles in the province. The network comprises close to 400 public charging stations, including eight fast-charge stations, in operation in select parking lots of the AMT as well as several RONA stores, Metro grocery stores and St-Hubert restaurants across Québec. Since its launch in March 2012, 108 private and institutional partners have joined the Electric Circuit, and the network now has over 4,000 members.
Electric Circuit users have access to a 24/7 telephone help line run by CAA-Québec, as well as a charging-station locator service. The Electric Circuit Web site theelectriccircuit.com and the mobile app for iOS and Android are updated as new stations are commissioned.
For information:

Alexandre Côté, Administrative Assistant, city of Richelieu
450 658-1157, ext. 223
secretaire@ville.richelieu.qc.ca
Louis-Olivier Batty
Hydro-Québec, for the Electric Circuit
514 289-4214
batty.louis-olivier@hydro.qc.ca
Top of page