Montréal, September 25, 2014
Hydro-Québec and National Grid sign a licensing agreement for the LineScout Technology
Hydro-Québec and National Grid, a British multinational electricity and gas utility company, have signed an important licensing agreement for the LineScout, a robotic device able to inspect high-voltage transmission lines. Under the licensing agreement, National Grid obtains the right to use LineScout Technology on the UK territory for a period of ten years. The two companies are working together to broaden their collaborative approach to strategic research and development.
LineScout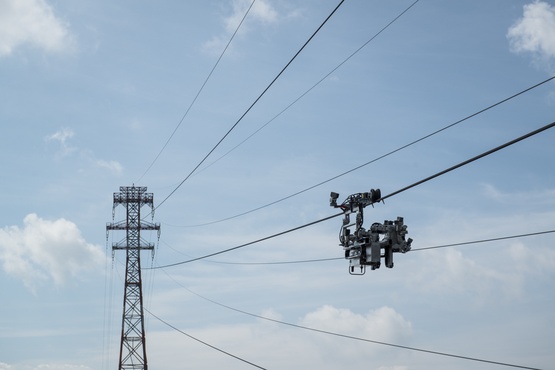 In an effort to improve reliability, inspections and safety, Hydro-Québec's research institute (IREQ) developed LineScout Technology. The remote-controlled robot uses cameras to inspect line conditions and discover irregularities, while also employing a smart navigation system to pinpoint locations in need of attention. The LineScout is able to manoeuvre around obstacles such as splices, hardware components and aviation warning markers.

"This remote-controlled robot will enhance overhead line maintenance. Unlike conventional transmission line servicing, the robot can service the lines while they are energized, saving precious company resources while reducing safety risks and downtime. It will be particularly useful for difficult-to-access locations, including motorway crossings, rivers and housing estates," mentioned Phil Haywood, Technology Application Engineer at National Grid.


Signing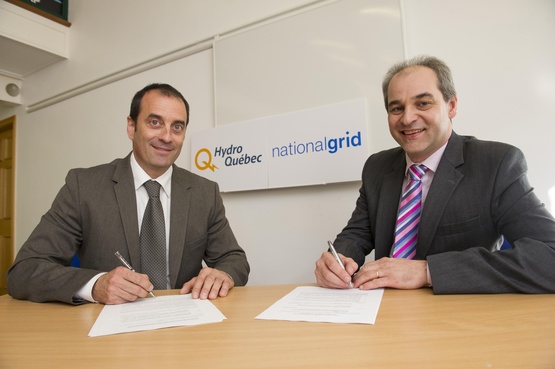 "IREQ, our research institute, has been committed to working with utilities from around the world for 40 years now. Partnerships such as the one we are establishing with National Grid are the cornerstone of our open collaboration approach to technological innovation," said Serge Montambault, Manager - Power Line Robotics Program at Hydro-Québec.
See a video clip of the LineScout in action at http://www.youtube.com/watch?v=hAR_j0V_Y3Q
About Hydro-Québec
Hydro-Québec is a public utility that generates, transmits and distributes electricity. It is Canada's largest electricity producer and is among the world's largest hydropower producers. Its sole shareholder is the Québec government. Its research institute, IREQ, conducts R&D in energy efficiency, energy storage and other energy-related fields. Hydro-Québec invests $100 million in research every year. www.hydroquebec.com
About National Grid
National Grid is one of the largest investor-owned energy companies in the world. We own and manage the grids that connect people to the energy they need, from whatever the source. In Britain and the north-eastern states of the US we run systems that deliver gas and electricity to millions of people, businesses and communities.
In Britain, we run the gas and electricity systems that our society is built on, delivering gas and electricity across the country. In the North Eastern US, we connect more than seven million gas and electric customers to vital energy sources, essential for our modern lifestyles.
National Grid in the UK:
We own the high-voltage electricity transmission network in England and Wales, operating it across Great Britain.
We own and operate the high pressure gas transmission system in Britain.
Our gas distribution business delivers gas to 10.9 million homes and businesses.
We also own a number of related businesses including LNG importation, land remediation and metering.
National Grid manages the National Gas Emergency Service free phone line on behalf of the industry – 0800 111 999 (all calls are recorded and may be monitored).
Our portfolio of other businesses is mainly concerned with infrastructure provision and related services where we can exploit our core skills and assets to create value. These businesses operate in areas such as Metering, Grain LNG Import, Interconnectors and Property. National Grid Carbon Ltd is a wholly owned subsidiary of National Grid. It undertakes Carbon Capture Storage related activities on behalf of National Grid.
National Grid in the US :
National Grid delivers electricity to approximately 3.4 million customers in New England and upstate New York.
We own 3.8 gigawatts of contracted electricity generation, providing power to over one million LIPA customers.
We are the largest distributor of natural gas in northeastern U.S., serving approximately 3.5 million customers in New York, Massachusetts and Rhode Island.
Contacts:
Marc-Antoine Pouliot
Hydro-Québec
514 289-3173
Pouliot.marc-antoine@hydro.qc.ca
Top of page