Montréal, March 15, 2023
Calls for tenders issued in 2021

Hydro-Québec accepts seven projects totalling nearly 1,150 MW of wind power

Hydro-Québec has accepted seven bids for a total of 1,303.36 megawatts (MW) of installed capacity under the two calls for tenders launched on December 13, 2021. One of the calls for tenders was for a block of 480 MW from renewable energy sources and the other one was for a block of 300 MW generated from wind power. The selected projects will help meet Québec's growing demand for electricity.

Energy deliveries must begin no later than December 1, 2026.

The accepted bids are distributed as follows:
Five bids in the call for tenders for the acquisition of 480 MW of power output from renewable sources, totalling 495.2 MW, i.e., nearly 1,000 MW of installed capacity overall.
Two bids in the call for tenders for the acquisition of 300 MW generated from wind power, totalling 302.32 MW of installed capacity.
The average price of the accepted bids is 6.1¢/kWh (in 2022 dollars). This price does not include transmission or balancing.

Over the coming weeks, Hydro-Québec will finalize contracts with the project proponents. The contracts will then be submitted to the Régie de l'énergie for approval. The selected proponents will be responsible for obtaining all the approvals and permits needed to build the facilities prior to the start of work.

From the beginning of the call for tenders, Hydro-Québec has worked with Raymond Chabot Grant Thornton & Cie regarding the application of the tendering process, the awarding of power purchase agreements and bid evaluation.
List of accepted bids: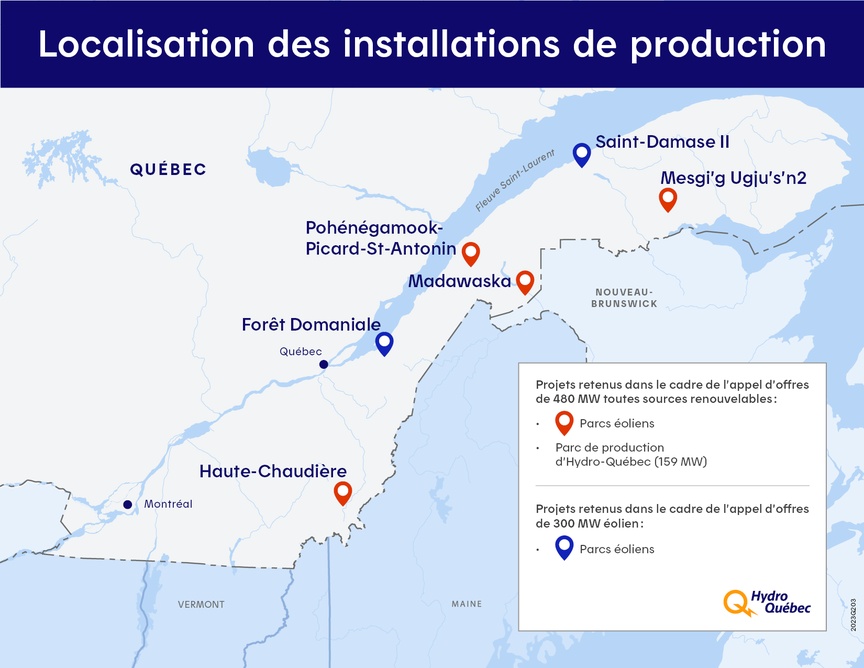 Information regarding the calls for tenders launched by Hydro-Québec in its electricity distribution activities is provided on the following website: https://www.hydroquebec.com/achats-electricite-quebec/.
Quotes
"We want to quadruple our wind power capacity over the next 15 years to ensure our energy supply. The projects selected will be carried out in collaboration with local and Indigenous communities. These new capacities will allow us to continue our efforts to decarbonize our economy while developing strategic subsidiaries," noted Pierre Fitzgibbon, Minister of Economy, Innovation and Energy, Minister Responsible for Regional Economic Development, and Minister Responsible for the Metropolis and the Montréal Region.
"The energy transition will lead to a continuously rising demand for electricity. As indicated in our latest supply plan, we anticipate Québec's energy demand to increase by 25 terawatthours (TWh), or 14%, by 2032. The projects selected under these calls for tenders will help meet this demand," added Dave Rhéaume, Vice President – Integrated Energy Needs Planning and Risk Management at Hydro-Québec.


For more information:

Hydro-Québec
Media relations
514 289-5005

Top of page