Montréal, December 16, 2021
Electric Circuit and ChargePoint make it easier for drivers to access charging across Canada and North America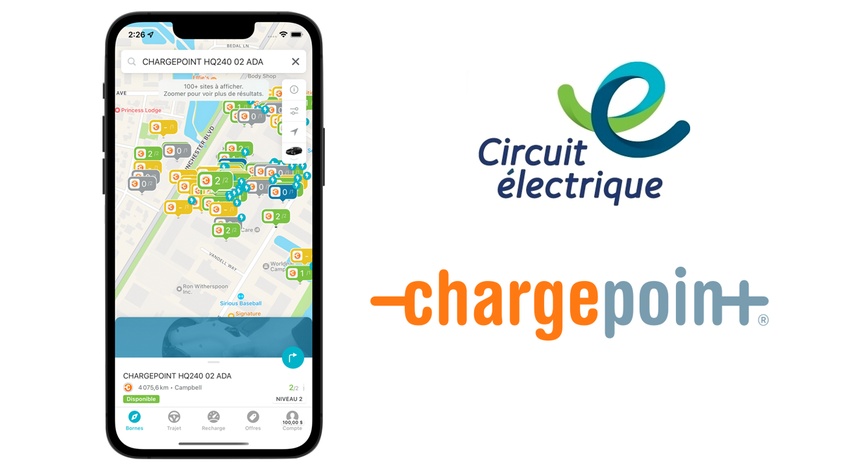 The Electric Circuit, a leading electric vehicle charging operator and network in Quebec, and ChargePoint, a leading electric vehicle charging network operating in Canada, the U.S. and Europe, announce a roaming integration that will make it easier and more seamless for electric vehicle drivers to access thousands of charging stations.
ChargePoint and Electric Circuit members will be able to charge on the other network without having to create a new account or new subscription. Members of the Electric Circuit will be able to access an additional 40,000 charging stations in North America and ChargePoint members will be able to access an additional 3,300 Electric Circuit charging stations, including near 600 fast charging stations.
"Our goal has always been to make life easier for electric motorists and to accompany them on their journeys. This new roaming connection demonstrates it once again by giving our members access to the largest network of electric vehicle charging stations in North America, which will help them in their travels outside Quebec," said France Lampron, Director, Mobility at Hydro-Québec.
"With a growing number of electric vehicles on Canada's road, we believe that seamlessly connecting EV drivers to charging stations across the country and North America will be essential," said Bill Loewenthal, Senior Vice President, Product, ChargePoint. "This integration expands our ongoing efforts to deliver a superior driver experience to EV drivers in Canada and North America."
Roaming between the two networks is now live, and drivers of both networks can seamlessly find, start and pay for a charge using either the Electric Circuit or ChargePoint mobile apps.
Ultimately, the advanced features of the Electric Circuit's mobile application such as the Trip Planner will allow Electric Circuit members to benefit from all the features they have in Quebec, no matter where they drive in North America.
This roaming integration builds on the Electric Circuit's and ChargePoint's industry-leading portfolio of software-enabled tools and supports ongoing efforts to ensure that drivers in Quebec and across North America are able to access seamless and reliable charging when, where and how they want.
This roaming integration is facilitated by a clearinghouse platform developed by Quebec-based MOGILE Technologies, which allows different charging networks to communicate together.
About the Electric Circuit
The Electric Circuit is the largest public charging network for electric vehicles in Québec. It consists of over 3,300 public charging stations, including near 600 fast chargers, in every region of the province. Electric Circuit users have access to a 24/7 telephone help line as well as a charging-station locator service. The Electric Circuit website, lecircuitelectrique.com/en/ and the Electric Circuit mobile app for iOS and Android are updated as new stations are commissioned. The Electric Circuit card also gives users access to the FLO network and New Brunswick's eCharge network.
About ChargePoint
ChargePoint is creating a new fueling network to move people and goods on electricity. Since 2007, ChargePoint has been committed to making it easy for businesses and drivers to go electric with one of the largest EV charging networks and a comprehensive portfolio of charging solutions available today. ChargePoint's cloud subscription platform and software-defined charging hardware are designed to include options for every charging scenario from home and multifamily to workplace, parking, hospitality, retail and transport fleets of all types. Today, one ChargePoint account provides access to hundreds-of-thousands of places to charge in North America and Europe. To date, more than 98 million charging sessions have been delivered, with drivers plugging into the ChargePoint network approximately every two seconds. www.chargepoint.com

Media Contacts :
Hydro-Québec
Jonathan Côté
Media relations
cote.jonathan2@hydroquebec.com
514 289-3227
ChargePoint
Mélanie Bourcier (French Media)
mbourcier@tactconseil.ca
514 554-2635
Ted Gruetzner (English Media)
tgruetzner@globalpublic.com
416-458-2762
Top of page