Montréal, April 16, 2019
Electrical system upgrade in Montreal

Hydro-Québec and its municipal partners working together to create a green corridor

Hydro-Québec, the Ville de Montréal, the boroughs concerned, as well as the cities of Montreal West, Côte Saint-Luc and Mount Royal will work together to support greenery and active transportation initiatives in the transmission line right-of-way between the Aqueduc substation and Saraguay substation. This collaboration is part of a plan to upgrade the transmission system between LaSalle and Saint-Laurent. A green corridor may include a bike bath, pedestrian link, landscaping and recreational facilities.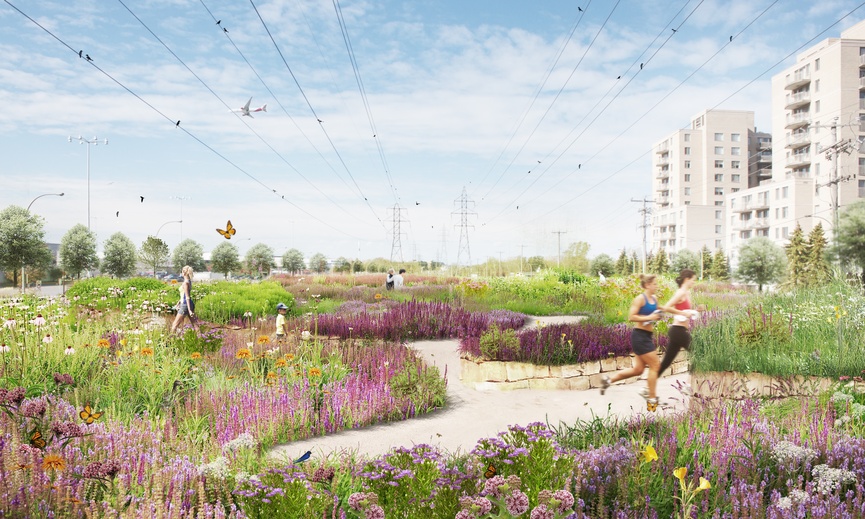 The project provides for
rebuilding the 120-kV Aqueduc-Saraguay overhead transmission line at 315 kV
over a span of 18 km between LaSalle and Saint-Laurent ;
converting three 120-kV substations to 315 kV—Rockfield substation (in Lachine), Hampstead substation (in Côte Saint-Luc) and Laurent substation (in Saint-Laurent).

In the coming weeks, Hydro-Québec will determine the details of the collaboration with each of its municipal partners. The public will be invited to take part in various information and consultation sessions over the next few months. Cooperation among the partners will promote biodiversity, connectivity and sustainable mobility, and improve community life for residents.

The Aqueduc-Saraguay project is estimated at over $500 million. The project involves replacing aging equipment, maintaining the system's reliability, meeting future electricity needs and supporting Montréal's economic development.

The project is in its initial stages, and the current plan is to build the transmission line in the existing right-of-way. However, the line route may be optimized at a later stage of the project to mitigate its impacts according to technical, economic, environmental and social criteria. The line and three substations will be commissioned progressively from 2023 to 2026.

Project Web site: www.hydroquebec.com/aqueduc-saraguay/en

Quotes:

"As Mayor of Montréal and Chair of the Montréal Agglomeration Council, I am very pleased with this collaboration with Hydro-Québec. The greening and mobility initiatives in the north-south corridor of the western part of the island will enrich the neighbourhoods it passes through while helping to reduce heat islands and promote active transportation. This project is part of our plan to develop and showcase ecological and recreational corridors on the territory of Montréal. This initiative is ambitious, and cooperation among all partners is necessary."

Valérie Plante, Mayor of Montréal

"Our cities' residents realize the importance of this type of project in an urban setting. Green spaces provide ecological benefits by filtering air and water, and by neutralizing heat islands."

Beny Masella, Mayor of Montreal-West

"Our city is pleased to work proactively in collaboration with Hydro-Québec to optimize the project, enhancing the reliability of the electricity system. The addition of greening initiatives is certainly one of our priorities. I have also asked Hydro-Québec to create a joint working committee to address the concerns of our residents. We are pleased that Hydro-Québec has agreed to this committee so that they will address our input and concerns. "

Mitchell Brownstein, Mayor of Côte Saint-Luc

"Hydro-Québec is proud to be working alongside its municipal partners to improve quality of life in the greater Montréal area. While Hydro-Québec's primary mission is to meet its customers' demands for electricity, one of its main goals is to harmoniously and sustainably integrate its facilities with the surroundings."

Marc Boucher, President, Hydro-Québec TransÉnergie
- - -
Information :
Hydro-Québec
Jean-Philippe Rousseau
Conseiller Relations avec le milieu
Montréal
514 385-8888, poste 2236

Ville de Montréal
Geneviève Jutras
Attachée de presse
Cabinet de la mairesse
514 243-1268

Montréal-Ouest
Raffaelle Di Stasio
Directrice générale
514 484-8716

Côte Saint-Luc
Darryl Levine
Directeur des communications
514 485-6800, poste 1802
Top of page