L'Étape, November 22, 2018
Two new fast-charge stations for EV owners thanks to L'Étape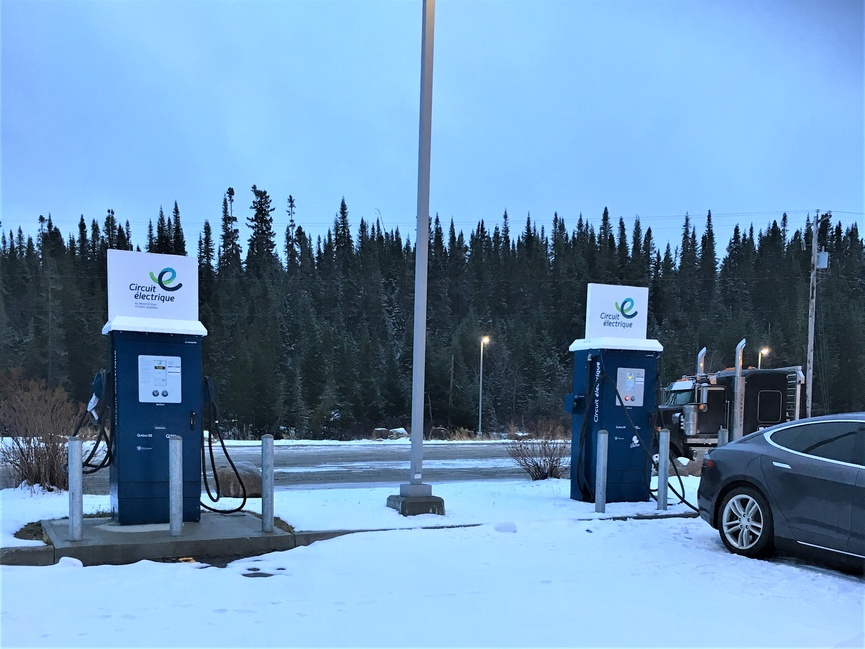 The Electric Circuit and the l'Étape charging stations partners – Le Coq Rôti and l'Ami Junior – are pleased to provide electric vehicle drivers with two fast-charge stations. Thanks to their strategic location in the Parc des Laurentides, fast-charge services are now available between the Saguenay and Capitale-Nationale regions. Fast-charge stations can charge an all-electric vehicle's battery to 80% in about 20 minutes.
"Since reopening l'Étape in 2005, it has always been important for us to meet our customers' varied needs. Installing two fast-charge stations meets a growing need and contributes to the inescapable trend of transportation electrification. We are proud to participate in and contribute to this movement in our own way," explained Jean-François Abraham, owner of the Le Coq Rôti and l'Étape restaurant chain.
"Connecting the region to the rest of Québec is becoming essential. More and more people are opting for electric vehicles, and this is also true of our region. We have seen an increase of more than 59% of electric vehicle purchases in 2018 compared with 2017. Clearly, the electric vehicle is here to stay," noted Eric Simard, Vice President of Sales for the l'Ami Junior group.
"These two fast-charge stations at l'Étape are ideally located in the Parc des Laurentides, allowing EV drivers to fill up on clean energy," said France Lampron, Director – Transportation Electrification at Hydro-Québec. "Thanks to their commitment, our partners are helping support the growing number of current and future electric vehicle owners."
About the Electric Circuit
The Electric Circuit is the largest public charging network in Québec. It is a major initiative designed to provide the charging infrastructure needed to support the adoption of plug-in electric vehicles across the province. At present, the network comprises near 1,600 public charging stations, including over 125 fast-charge stations, in 16 Québec regions. Over 305 private and institutional partners have joined the Electric Circuit since its launch in March 2012. The network now has more than 30,000 members.
Electric Circuit users have access to a 24/7 telephone help line run by CAA-Québec, as well as a charging-station locator service. The Electric Circuit Web site, theelectriccircuit.com, and the mobile app for iOS and Android are updated as new stations are commissioned. The Electric Circuit card also gives users access to the Canada-wide FLO and New Brunswick-based eCharge networks.
Information:
Jean-François Abraham
Owner
Le Coq Rôti and l'Étape restaurant chain
jfabraham@coqroti.com
Véronique Savard
Director of Communication and Marketing
L'Ami Junior
418 545-6555
vsavard@lamijunior.com
Louis-Olivier Batty
Media Officer
Hydro-Québec, for the Electric Circuit
514 289-4214
batty.louis-olivier@hydro.qc.ca
Top of page