Montréal, June 7, 2018
Blockchain industry in Québec: A special framework for particular consumers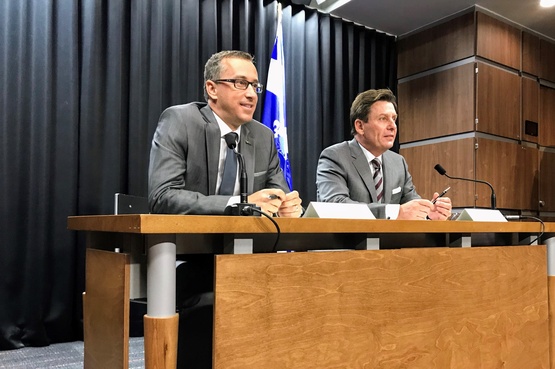 The Québec government announces a new framework for the category of electricity consumers using cryptography as applied to blockchain technology. This framework is required given the unprecedented demand from companies in this booming industry.
The demand exceeds Hydro-Québec's short- and medium-term capacity, which explains the importance of acting quickly.
The joint response of the Québec government and Hydro-Québec is three-fold:
A ministerial order temporarily halts Hydro-Québec's processing of requests from this category of consumers so that the company can continue to fulfil its obligations to supply electricity to all of Québec.
An Order-in-Council instructs the Régie de l'énergie to address the conditions governing the sale of electricity to companies in this industry, taking into account the following concerns:

the definition of a new category of electricity consumers for the blockchain industry and a rate specific to this category
the need for a reserved block of energy for this category of consumers
the possibility of maximizing Hydro-Québec's revenues
the possibility of maximizing the economic spinoffs in Québec, mainly with respect to job creation
the need to consider issues related to the winter peak period
In coming days, Hydro-Québec will file an application with the Régie de l'Énergie proposing a selection process for blockchain industry projects in light of the concerns expressed by the Québec government in its Order-in-Council. The application will highlight the importance of rapidly moving forward so as not to miss the opportunities offered by this industry.
In this way, the joint action of the Government and Hydro-Québec targets companies offering the most profitable economic spinoffs for Québec in terms of investments and jobs, while maximizing revenues for the government-owned corporation.
Quotes
Pierre Moreau, Minister of Energy and Natural Resources: "The measures announced today represent a responsible, prudent and practical approach to welcome top businesses from the blockchain tech sector, to contribute to the economic development of other sectors and to create spinoffs throughout Québec, while ensuring energy supply for all Quebecers."
Éric Filion, President of Hydro-Québec Distribution: "The blockchain industry is a promising avenue for Hydro-Québec. Guidelines are nevertheless required to ensure that the development of this industry maximizes spinoffs for Québec without resulting in rate increases for our customers. We are actively participating in the Régie de l'énergie's process so that these guidelines can be produced as quickly as possible."
For more information:
Jonathan Côté
Hydro-Québec
cote.jonathan2@hydro.qc.ca
514 289-3227
Source:
Catherine Poulin, Press Officer
Office of the Minister of Energy and Natural Resources, Minister responsible for the Plan Nord and Minister responsible for Gaspésie–Îles-de-la-Madeleine
418 643-7295
Top of page