Varennes, March 23, 2018
Québec, a Global Leader in Battery Materials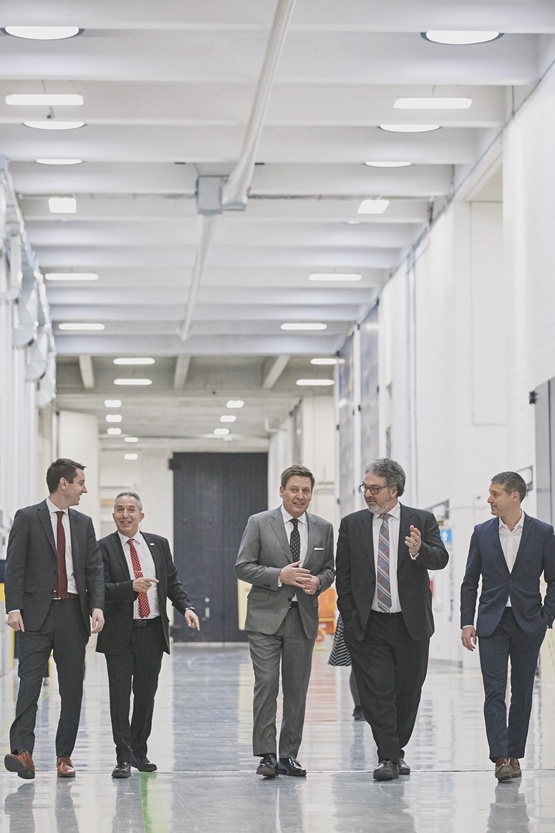 Hydro-Québec and the Gouvernement du Québec announce the opening of the center of excellence in transportation electrification and energy storage, with the mission of maintaining and enhancing Québec's global leadership in the field of battery materials.
The center of excellence will commercialize Hydro-Québec technologies, protected by 800 patents. It will also create new research partnerships and develop new technologies.
With 70 employees, including 27 researchers, its 2018 operating budget is of $20 million, sourced entirely from outside revenue, generated chiefly by the sale of licenses to use its technologies.
The center of excellence is headed by Karim Zaghib, an expert of international renown. Dr. Zaghib was recently named one of the World's Most Influential Scientific Minds for the third year running.
For 40 years, Hydro-Québec's research institute (IREQ) has been recognized around the world for its technological expertise and its portfolio of intellectual property, especially in the area of lithium-ion, lithium-sulfur and lithium-air batteries. This is the portfolio that the center of excellence will commercialize and expand.
Quotes
"To achieve Québec's energy transition, we need to leverage the strength of our expertise to foster innovation, especially in the area of energy storage," said Minister of Energy and Natural Resources Pierre Moreau. "Opening the center of excellence will help Québec become a leader in energy storage and transportation electrification. This is a concrete illustration of our willingness to provide increased support to research and development, as set out in our Energy Policy 2030."
"The center of excellence in transportation electrification is going to enable Québec to consolidate its position as a global leader in research on battery materials," said Minister of Transport, Sustainable Mobility and Transport Electrification André Fortin. "It will help bring together the business and research communities in order to establish a dynamic culture of open innovation, further technology transfer and help create jobs. It also confirms the government's willingness to bank on transportation electrification to achieve its environmental and economic goals."
"The establishment of this center is a new milestone that will enable us to further develop our expertise in battery materials and derive value from our patents," said Éric Martel, President and Chief Executive Officer of Hydro-Québec.
Information:
Hydro-Québec
Press Officer
Louis-Olivier Batty
514 289-4214
Batty.louis-olivier@hydro.qc.ca
Catherine Poulin
Press Officer
Office of the Minister of Energy and Natural Resources
418 643-7295
Marie-Pier Richard
Press Officer
Office of the Minister of Transport, Sustainable Mobility and Transport Electrification
418 643-6980
Top of page