Sainte-Julie, February 5, 2018
Spring break at the Électrium: Free programming for science fans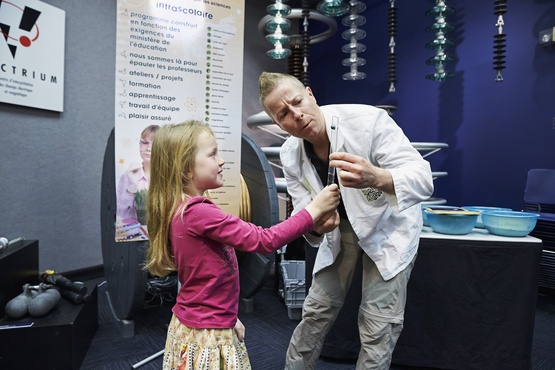 The Électrium invites you to take advantage of its special Spring break programming. Introductory science workshops led by Profaqua's scientific education experts will entertain curious minds ages six and up along with their families – completely free of charge.

You will also be able to take guided tours of Hydro-Québec's electricity interpretation centre and learn about all sorts of electrical phenomena. You will discover how electricity shows up in nature, in physical and magnetic phenomena, and how electricity is generated in Québec.

A series of surprising experiences

From March 5 to March 11, 2018, kids will have fun developing their team spirit and their scientific curiosity through the various workshops available. Electrolysis, robot building, the Big Bang, the Apollo moon landing, rockets and chemical potion making – a diverse range of themes that are sure to surprise you!

Plan your visit

There's a different workshop every day of the week. To see the full program and the workshop schedule, go to www.hydroquebec.com/visit. Space is limited. Book now by calling the Électrium at 1 800 267-4558.

Spring break schedule
The Électrium will be open March 5 to March 11, inclusive, from 9:15 a.m. to 4:30 p.m. The 60-minute workshops will be held at 9:30 a.m., 11 a.m., 1 p.m. and 2:30 p.m.

The Électrium is in Sainte-Julie, Exit 87 off Highway 30 in Montérégie.

Living in an electrical world

Hydro-Québec's electricity interpretation centre offers guided tours adapted to different visitor groups and several interactive modules so you can learn more about the electric phenomena that surround you. For example, you can explore electricity's role in the human body and its effect on our reflexes, and even get to test who, in your family, has the fastest reflexes.

– 30 –
For information:
Media Relations
(514) 289-5005
Top of page