Beijing, January 22, 2018
Hydro-Québec licenses Dongshi Kingpower Science and Technology to use its solid-state lithium battery technology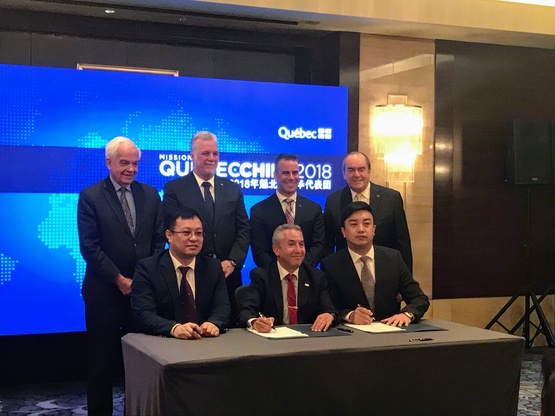 Hydro-Québec (Montréal, Canada) and Dongshi Kingpower Science and Technology Ltd. (China) today announced the signing of a licensing agreement for the use of patents related to solid-state lithium batteries. This agreement will enable Kingpower to use technology developed by Hydro-Québec to manufacture batteries destined to the Chinese automotive market.
"The signing of this license will allow a technology developed in Québec to promote the electrification of transportation while taking advantage of the rapid growth of this sector in China," said Karim Zaghib, General Director, Center of excellence in transportation electrification and energy storage at Hydro-Québec.
This technology is especially well suited for use in electric vehicles as solid-state batteries are much safer and have twice as much energy density as standard lithium-ion batteries. A pilot assembly line will be put in place at Kingpower's factory in collaboration with Hydro-Québec.
"Electric vehicles are a revolution in the global automobile industry. Batteries are a core technology at the heart of this revolution. Developing electric vehicles provides an opportunity for China to compete on this burgeoning global market and the keys to winning this competition are technological innovation and the battery," said Tiancheng Zhu, President, Dongshi Kingpower Science and Technology Ltd.
This technology is the work of the team of Karim Zaghib, an internationally recognized expert. For a third year running, Karim Zaghib has been named among the most influential scientists in the world by Clarivate Analytics (formerly a division of Thomson Reuters) on their World's Most Influential Scientific Minds list—one of the most prestigious rankings in the world.
This agreement will enable deeper cooperation between Canada and China in the field of energy and trigger the rapid development of the electric vehicle industry for both countries.
About Hydro-Québec
Hydro-Québec generates, transmits and distributes electricity. It is Canada's largest electricity producer and one of the world's largest hydroelectric power producers. Its sole shareholder is the Québec government. It uses mainly renewable generating options, in particular large hydropower. Its research institute, IREQ, conducts R&D in energy efficiency, energy storage and other energy-related fields. http:/www.hydroquebec.com
About Dongshi Kingpower
Dongshi Kingpower Science and Technology Ltd. is a high-tech enterprise with batteries at the heart of its development strategy. It operates the Science & Technology Achievements Transformation Base for the National & Local United Engineering Lab for Power Batteries. It has undertaken several national key task technology projects and the "863 Project."
Contact
Jonathan Côté
Press Officer
514-289-3227
cote.jonathan2@hydro.qc.ca
Top of page