Montreal, January 5, 2018
Twenty years ago, Québec was battered by an ice storm
Hydro-Québec, January 5, 2018 — From January 5 to 9, 1998, southern Québec was coated in up to 110 millimeters of ice, plunging more than three million people into the dark. Even though Hydro-Québec's system was three times stronger than the standards required at the time, it caved in. Since then, Hydro-Québec has made significant improvements to its system throughout Québec, resulting in a more robust and reliable network, able to stand fast in all kinds of weather conditions.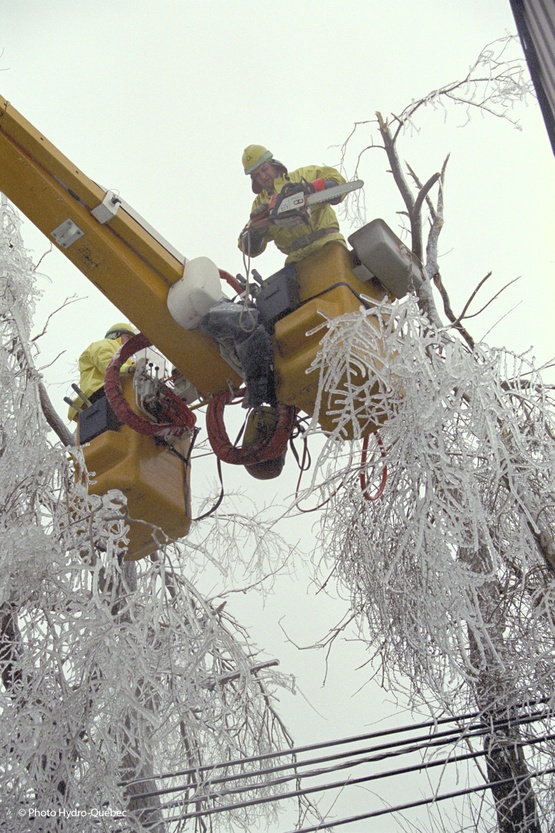 Under the weight of the ice that fell in January 1998, 1,500 towers were damaged. At the height of the crisis, nearly 1.4 million Québec households were without electricity, and more than three million Quebecers went without power for several days.
Up to 10,000 people were hard at work to restore electricity to the several regions affected by this unprecedented storm. With all hands on deck, our employees also counted on the help of workers from neighboring electric utilities, Sécurité civile du Québec representatives, Canadian Armed Forces soldiers, and subcontractors.
Unfazed by working 12–16 hour days, in just two weeks, they managed to build a temporary high-voltage transmission line to supply power to the Greater Montréal area. This was a truly impressive feat, as such an operation would normally require three to four months of work. The last customer was finally reconnected a month after the ice storm began.
To learn more about what happened, visit our new virtual exhibition, Icy January: http://www.hydroquebec.com/ice-storm-1998
Damage done, lessons learned
At the time of the storm, Hydro-Québec's equipment met Government of Canada standards, designed to withstand ice storms three times as severe as what was required Still, it wasn't able to shoulder the brunt of the storm, and Hydro-Québec has since reinforced its equipment and system to prevent such a crisis in the future.
For example, over than 900 km of lines have been rebuilt using much more stringent design criteria. The new 735-kV Chamouchouane–Judith-Jasmin transmission line is part of the strategy to better supply the greater Montréal area. The company can now also rely on the Sygivre system, a sensor that triggers an alert if icing accumulates on power lines.
It is hard to predict whether a storm of such magnitude will ever happen again. But if it did, we'll be better equipped to face it. Our system is decidedly more reliable and more solid, and our employees have shown that, in times of crisis, they don't think twice about rolling up their sleeves to serve our customers.
The 1998 ice storm in numbers:
Up to 1.4 million households without power
Over three million people affected
3,000 km of transmission and distribution lines rebuilt
400 km of high-voltage lines rebuilt
1,500 towers replaced
17,000 poles replaced
4,500 transformers replaced
88,000 insulators replaced
A more reliable, robust system
Changing the transmission system to create loops to deliver power over more than one path:

Creation of the 735-kV Montérégie loop and the 315-kV downtown Montréal loop
rearranging the system between Québec and Trois-Rivières to create the Québec-Mauricie loop
Reinforcing the supply to downtown Québec
Integration of the new 735-kV Bout-de-l'Île substation to the 735-kV greater Montréal loop
Building the 735-kV line linking the Chamouchouane and Judith-Jasmin substations using more stringent mechanical design criteria (slated for commissioning in 2018)
Commissioning a new interconnection with Ontario
Reinforcing vegetation control programs to prevent system failures
Bolstering the security at many satellite substations and on over 900 km of high-voltage lines
Research and testing: perfecting devices to protect against ice and simulating their use on full-scale test facilities.
In pictures (click for high-resolution version) :
-30-
Information:
Media team
Hydro-Québec
514 289-5005
Top of page