Varennes, May 25, 2017
Hydro-Québec and KEPCO (South Korea) Sign R&D Cooperation Agreement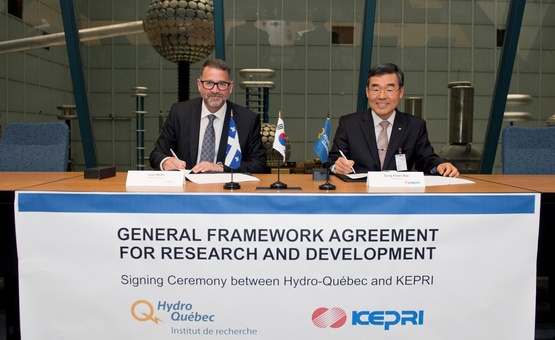 Hydro-Québec's research institute (IREQ) and KEPCO Research Institute (KEPRI) announce the signing of a research and development cooperation agreement in the field of cybersecurity and smart grids.
Their joint effort will specifically involve monitoring and managing the power grids of tomorrow, and developing automated protection systems for digital substations, optical current transformers, underground infrastructure and DC transmission.
The agreement follows on from a memorandum of understanding signed November 3, 2016, at the Bitgaram International Exposition of Electric Power Technology (BIXPO).
"Hydro-Quebec and IREQ are doing a key role in making power grid smarter in North America and this agreement will be a stepping-stone for technology innovation securing the clean and smart power grid of tomorrow," said Dr. Sung Hwan Bae, President of KEPCO Research Institute.
"KEPCO Research Institute is a major player in research and innovation and the projects we will be carrying out together will help improve performance and security of our evolving infrastructure," said Jean Matte, Senior Director of Hydro-Québec's research institute.
About KEPCO
Korea Electric Power Corporation (KEPCO) was founded with the objective to facilitate the development of electric power supply in Korea, meet the country's power supply and demand needs, and contribute to the national economy in accordance with the Korea Electric Power Corporation Act. KEPCO is classified as a market-oriented public corporation under the Act on the Management of Public Institutions.
KEPCO's areas of business are based on the aforementioned objectives and include the development of electric power resources, electric power generation, transmission, transformation, and distribution, as well as related marketing, research, technological development, overseas business, investment, corporate social responsibility and use of its property.
About Hydro-Québec
Hydro-Québec generates, transmits and distributes electricity. It is Canada's largest electricity producer and is among the world's largest hydropower producers. Its sole shareholder is the Québec government. Its research institute, IREQ, conducts R&D in energy efficiency, energy storage and other energy-related fields. Hydro-Québec invests $130 million in research every year. www.hydroquebec.com
Information:
Hydro-Québec
Louis-Olivier Batty
Media Officer
+1 514 289-4214
batty.louis-olivier@hydro.qc.ca
KEPRI
Youngjin Shin
Senior Researcher
+82-42-865-5084
youngjin.shin@kepco.co.kr
Top of page