Montréal, March 30, 2017
Electric Circuit: Over 800 Charging Stations in Five Years
The Electric Circuit, the largest public charging network for electric vehicles in Québec, is celebrating its fifth anniversary. Launched on March 30, 2012, the network has come a long way, starting with some thirty charging stations at the end of 2012, to over 800 charging stations – including 70 fast-chargers – in more than 200 municipalities across Québec.
Since the network was launched, some 225,000 charges have been done at Electric Circuit charging stations, and that number keeps growing every day. There are nearly 14,000 electric vehicles on Québec roads, and over 87% of electric vehicle owners have an Electric Circuit card, which translates into over 12,000 members.
Electric Circuit members have covered nearly 10,900,000 km on the energy supplied by the network's charging stations so far. They have saved 755,000 litres of gas and decreased greenhouse gas emissions by 1,800 tonnes. Driving a vehicle that runs on clean energy produced here, instead of on imported gas, not only improves environmental quality, but also contributes to improving Québec's trade balance.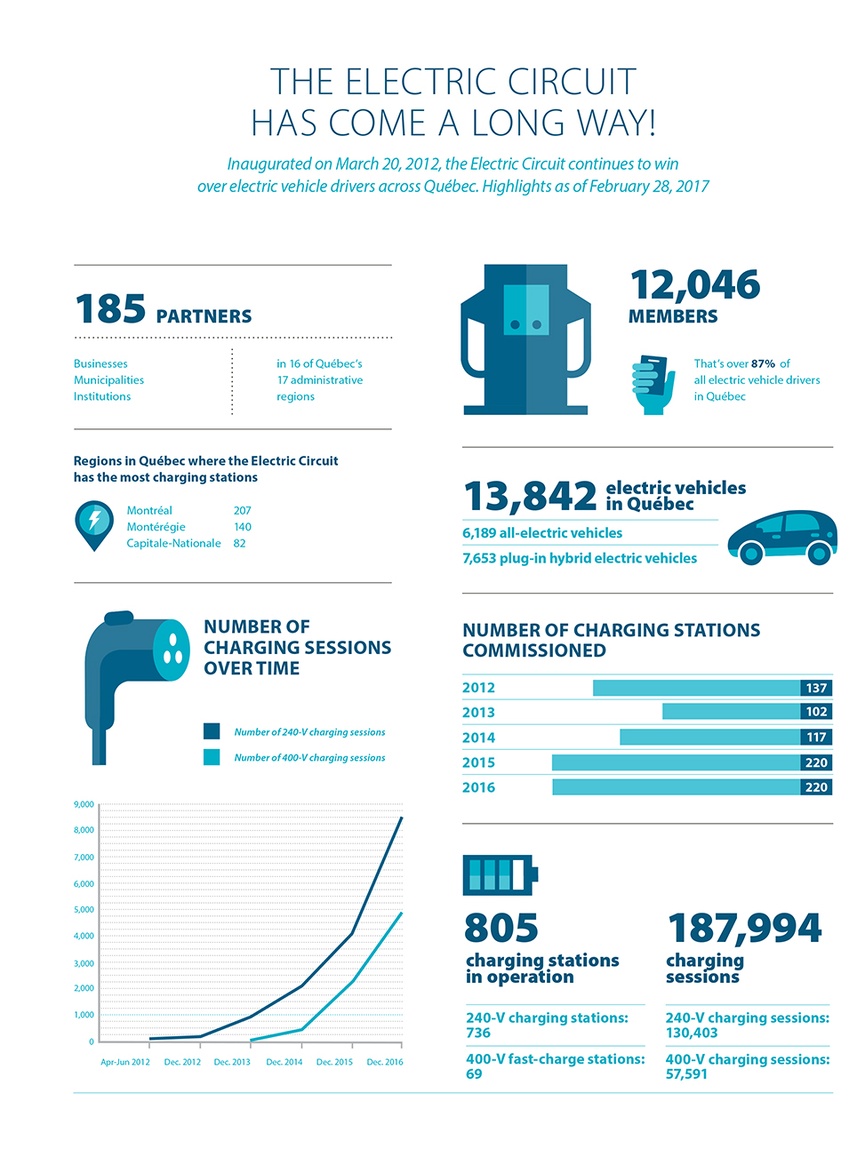 "We are extremely proud of what's been accomplished so far thanks to the support of the Electric Circuit's partners, who believe in transportation electrification and invest in the network of charging stations. The Electric Circuit is renowned, both in Quebec and across Canada and North America, as a reliable network with charging stations all across Québec" said France Lampron, Director – Transportation Electrification at Hydro-Québec.
Even more fast-charge stations in 2017
Due to high demand at certain charging stations and the advent of all-electric vehicles with a range of over 300 km, the Electric Circuit intends to continue the expansion of its fast charge stations along major roads and in large urban centers.
About the Electric Circuit
The Electric Circuit is the largest public charging network in Québec. It is a major initiative in the implementation of the infrastructure required to support the adoption of plug-in electric vehicles in the province. The network comprises over 800 public charging stations, including 70 fast-charge stations, in operation across 16 Québec regions. Since its launch in March 2012, 185 private and institutional partners have joined the Electric Circuit, and the network now has over 12,000 members.
Electric Circuit users have access to a 24/7 telephone help line run by CAA-Québec, as well as a charging-station locator service. The Electric Circuit Web site, theelectriccircuit.com, and the mobile app for iOS and Android are updated as new stations are commissioned. The Electric Circuit card also allows users to access the 150 FLO network charging stations in Québec.
Information:
Louis-Olivier Batty
Hydro-Québec, for the Electric Circuit
514 289-4214
batty.louis-olivier@hydro.qc.ca
Top of page