Joliette, January 19, 2017
City of Joliette Now Offers Fast-Charge Station for All-Electric Vehicles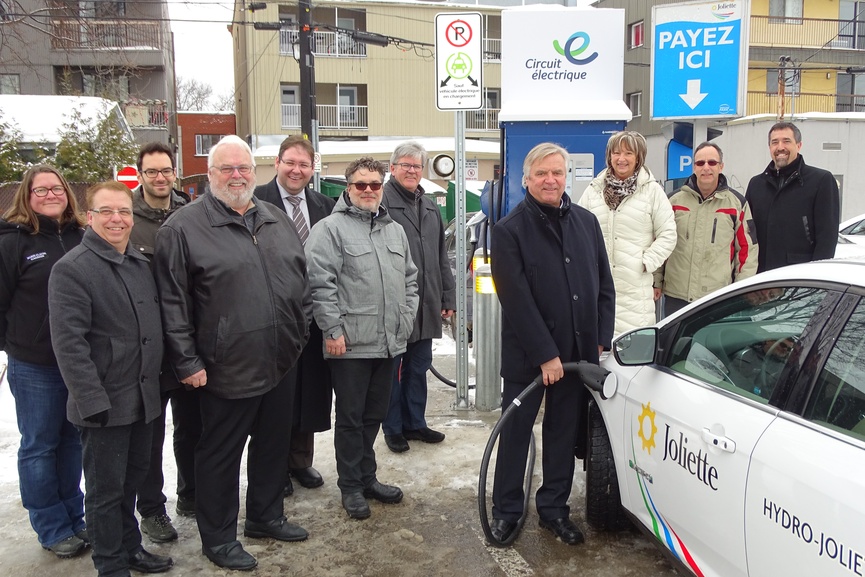 The Electric Circuit and the City of Joliette are delighted to announce the commissioning of a fast-charge station for all-electric vehicles (EVs). EV drivers can now charge their cars at the fast-charge station in the parking lot behind 375, boulevard Manseau.
"Québec is strongly committed to transportation electrification, and the network of public charging stations is easing the transition and helping reduce our reliance on gasoline," said Deputy Premier Lise Thériault, also Minister responsible for Small and Medium Enterprises, Regulatory Streamlining and Regional Economic Development; Minister responsible for the Status of Women; and Minister responsible for the Lanaudière Region.
"In 2012, Joliette inaugurated its first electric vehicle charging stations. Since then, we've seen growth in demand. As we've made transportation electrification one of our priorities, we're proud of this partnership with Hydro-Québec, which will allow drivers to top up their batteries even more efficiently," said Joliette's mayor, Alain Beaudry.
"The Electric Circuit is developing its network of fast-charge stations to serve the ever-increasing number of all-electric vehicles on the road. Thanks to far-seeing partners like the City of Joliette, we can offer a high-power charging service that EV drivers really appreciate," added France Lampron, Director – Transportation Electrification, at Hydro-Québec.
This new Electric Circuit plug-in terminal brings the number in the Lanaudière region up 36, including 4 in Joliette, where there are also 5 FLO stations. To find out the exact location of each charging station, visit the Find a Charging Station section of the Electric Circuit's Web site.
About The Electric Circuit
The Electric Circuit is the largest public charging network in Québec. It is a major initiative in the implementation of the infrastructure required to support the adoption of plug-in electric vehicles in Québec. The network comprises close to 800 public charging stations, including 66 fast-charge stations, operating across 16 Québec regions. Since its launch in March 2012, 181 private and institutional partners have joined the Electric Circuit, and the network now has over 11,500 members.
Electric Circuit users have access to a 24/7 telephone help line run by CAA-Québec, as well as a charging-station locator service. The Electric Circuit Web site, theelectriccircuit.com, and the mobile app for iOS and Android are updated as new stations are commissioned. The Electric Circuit card also allows users to access FLO network charging stations.
Information
Louis-Olivier Batty
Press Officer
Hydro-Québec, for The Electric Circuit
514-289-4214
batty.louis-olivier@hydro.qc.ca
Sonia Hénault
Communications Advisor
City of Joliette
450-753-8189
sonia.henault@ville.joliette.qc.ca
Top of page