Montréal, December 8, 2016
Track daily electricity use with Consumption Profile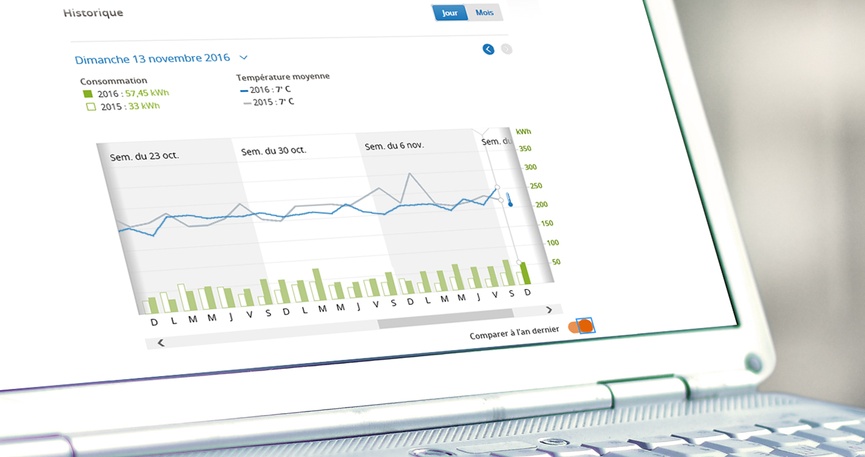 Just in time for our colder weather, Hydro-Québec is making the new Consumption Profile tool available to residential customers. Thanks to next-generation meters, this online tool tells you about your everyday use of electricity.

The Consumption Profile provides all kinds of information:
See daily, monthly and yearly electricity use.
Compare it with last year's numbers.
Gain a better understanding of variations in electricity use due to regional temperatures.
Get tips on saving.
The Consumption Profile is available now if you've created your Customer Space on the Hydro-Québec Web site. This personal space includes many services, such as viewing and paying bills, entering into a payment arrangement and reporting a change of address.
Heating: 50% of your electricity bill
As winter approaches, Hydro-Québec would like to remind you that heating typically accounts for over 50% of your electricity bill. That makes it the biggest factor that you can change to lower your bill.
Here are some good ways to do that:
Turn down the temperature a few degrees at night or when you go out.
Don't heat unused rooms.
Use electronic thermostats, which are very precise and keep the temperature where you want it to within a tenth of a degree.
Clean your heating devices—remove dust from baseboard heaters and hot air ducts.
Seal all openings in outside walls, such as those for electrical outlets, switches, pipes and ventilation ducts.

Information
Marc-Antoine Pouliot
514 289-5005
Top of page