Otterburn Park, October 27, 2016
Town of Otterburn Park and The Electric Circuit Offer Fast-Charge Station for Electric Vehicles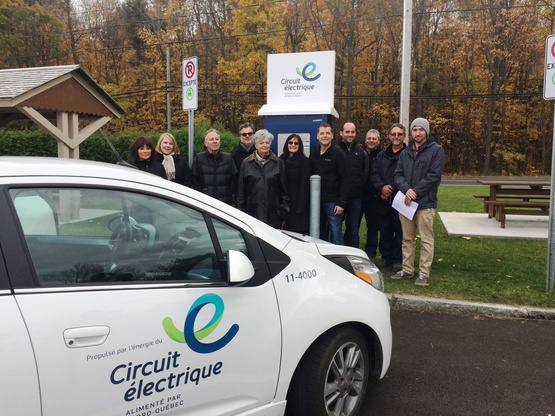 The Electric Circuit and the Town of Otterburn Park have commissioned a fast-charge station for electric vehicles. The new charging station is located at the Otterburn Park rest area, at 761, Chemin des Patriotes.
Fast-charge stations can charge an all-electric vehicle's battery at 80% in about 20 minutes, while 240-V stations extend the car's range by 30 to 75 km while drivers spend an hour or two shopping.
"With its extensive road system, the Montérégie region must be lead the way in transportation electrification. I'm delighted that a charging station has been installed at the Otterburn Park rest area. The Electric Circuit will continue to expand for a sustainable future," said the minister responsible for the Montérégie region, Lucie Charlebois.
"Today, as we launch our first fast-charge station at the Otterburn Park rest area, is a great day for Otterburn Park residents and visitors, and for the environment," said Mayor Danielle Lavoie.
"Electric car drivers can now stop in Otterburn Park to fill up on clean energy," said France Lampron, Director – Transportation Electrification at Hydro-Québec. "Thanks to its commitment, the Town of Otterburn Park is helping expand the service offering for the growing number of electric vehicle owners in the area."
About the Electric Circuit
The Electric Circuit is the largest public charging network in Québec. It is a major initiative in the implementation of the infrastructure required to support the adoption of plug-in electric vehicles in Québec. The network comprises over 745 public charging stations, including 60 fast-charge stations, operating across 16 Québec regions. Since its launch in March 2012, over 160 private and institutional partners have joined the Electric Circuit, and the network now has over 10,000 members.
Electric Circuit users have access to a 24/7 telephone help line run by CAA-Québec, as well as a charging-station locator service. The Electric Circuit Web site, theelectriccircuit.com, and the mobile app for iOS and Android are updated as new stations are commissioned. The Electric Circuit card also allows users to access the 150 Québec charging stations of the FLO network (formerly the VERnetwork).
Information
Otterburn Park Town Hall
450-536-0399
info@ville.otterburnpark.qc.ca
Louis-Olivier Batty
Press Officer
Hydro-Québec, for The Electric Circuit
514-289-4214
batty.louis-olivier@hydro.qc.ca
Top of page