Lac-Mégantic, August 26, 2016
New fast-charge station in Estrie

Ville de Lac-Mégantic joins the Electric Circuit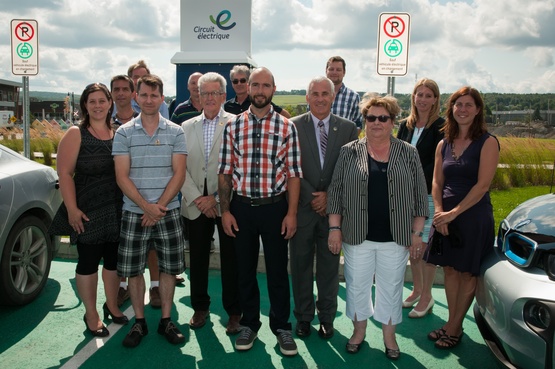 Ville de Lac-Mégantic and the Electric Circuit are pleased to announce that a new fast-charge station for electric vehicles is now in service. Drivers can recharge their electric vehicle in the Rue du Québec-Central parking lot, corner Papineau, in the new town centre, just steps from many of Lac-Mégantic's shops and services.
With the new public fast-charge station, Ville de Lac-Mégantic is expanding its offer to electric vehicle drivers and positioning itself among their choice destinations.
"In the environment sector as in many others, every action counts and I am very pleased to be taking part in this initiative. Each new charging station that is put into service is part of a comprehensive approach to sustainable development," affirmed Mégantic MNA Ghislain Bolduc.
"Every year, there are more and more electric vehicle drivers in Québec. Du Granit RCM must meet the needs of these many consumers, who are also tourists to the region and who drive our economy. By installing charging stations on the territory—as we have here in Lac-Mégantic—we are providing visitors with the same services as those available in large cities. Though we are located outside the major urban centres, we remain current with the latest technologies. This is how we will continue to attract visitors and ensure the sustainability of the region," explained Marielle Fecteau, Prefect of Du Granit RCM.
Jean-Guy Cloutier, mayor of Ville de Lac-Mégantic, is pleased with the project: "I am very proud that Ville de Lac-Mégantic now provides a fast-charge station for residents and visitors. In addition to Hydro-Québec and Du Granit RCM, which are key partners in Lac-Mégantic's reconstruction, I would also like to acknowledge the residents' support in this project."
The Ville de Lac-Mégantic project was funded by Hydro-Québec and Du Granit RCM, as well as by partners WSP ingénieurs-conseils, Philippe Mercier inc., Construction Réjean Bélanger inc., Paysages François Lessard inc., Ecce Terra arpenteurs-géomètres and Veilleux et associés notaires.
"I would like to thank Ville de Lac-Mégantic for its leadership in giving substance to this partnership. In addition to facilitating travel for drivers of electric vehicles in Estrie, the new fast-charge station serves to increase the density of our network in one of Québec's loveliest tourist regions, to the delight of electric vehicle drivers," concluded France Lampron, Director – Transport Electrification, Hydro-Québec.
With the addition of the Lac-Mégantic station, the Electric Circuit now has a total of 49 charging stations in operation in Estrie, including four fast-charge stations.
About the Electric Circuit
The Electric Circuit is the largest public charging network in Québec. It is a major initiative in the implementation of the infrastructure required to support the adoption of plug-in electric vehicles in Québec. The network comprises over 720 public charging stations, including 51 fast-charge stations, operating across 16 Québec regions. Since its launch in March 2012, 154 private and institutional partners have joined the Electric Circuit, and the network now has over 9,100 members.
Electric Circuit users have access to a 24/7 telephone help line run by CAA-Québec, as well as a charging-station locator service. The Electric Circuit Web site theelectriccircuit.com and the mobile app for iOS and Android are updated as new stations are commissioned. The Electric Circuit card also allows users to access the 150 Québec charging stations of the FLO network (formerly the VERnetwork).
Information
Geneviève Chouinard
Hydro-Québec for the Electric Circuit
514 289-6052
chouinard.genevieve@hydro.qc.ca
Top of page