Montréal, July 21, 2016
Québec hydropower is clean according to the most recent research
We'd like to clear up a few points raised in David Suzuki's editorial in The Record of July 19, in which he discusses the environmental aspects of hydropower.
Hydro-Québec recently commissioned the International Life Cycle Chair at CIRAIG to do a life-cycle analysis comparing various power-generation methods used in North America. The conclusion is clear: Québec's hydropower industry ranks among the best in the world.
The study confirms that greenhouse gas (GHG) emissions are greater in the years following the creation of reservoirs. However, they drop back down to their natural levels within 10 years. The study also shows that GHG emissions from Québec hydropower are similar to those of wind power, five times lower than those from photovoltaic solar, and seventy times lower than those of coal-fired generating stations.
Huge amounts of GHG emissions avoided for Québec and its neighbors
Our hydropower enables Québec to boast among the lowest per-capita GHG emission rates in North America. By exporting some of our power and thereby displacing power generated using fossil fuels, we extend the beneficial effect of our green energy continent-wide. Hydro-Québec's 2015 electricity exports prevented 7.4 million tonnes of GHG emissions, the equivalent of the annual emissions of 1.85 million cars.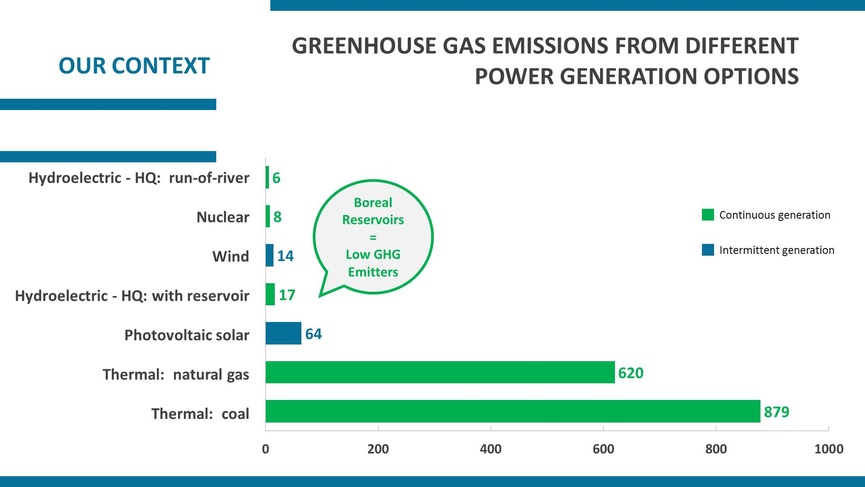 World-renowned environmental practices
Mr. Suzuki also says that we need to find the least disruptive, most efficient ways of generating power. It is in this spirit that Hydro-Québec has implemented a sustainable development model seen as exemplary by electric utilities around the world.
It is also important to keep in mind that Québec hydropower projects are subject to an extremely thorough environmental assessment by both the federal and provincial governments. These projects are based on public consultations and exhaustive environmental and social studies aimedat finding optimal solutions and establishing measures to prevent, mitigate or offset impacts.
An approach that takes climate change into account
As Mr. Suzuki mentions, climate change will have an impact on the watersheds that supply our hydropower generating stations. We too are concerned about this issue, which is why for the past 15 years we've been supporting Ouranos, a group that studies the impact of climate change. We make sure to integrate the knowledge contributed by their research to our operations and ongoing projects.
An industry developed by maintaining a respectful relationship with Québec's host communities.
In closing, we would like to emphasize that in our projects over the years, we have formed a number of partnerships with local communities to ensure that those affected can maintain their many uses of the land, pursue traditional activities and enjoy economic spinoffs from the projects.
Alain Tremblay, Ph.D.
Environmental Advisor
Hydro-Québec
Information
514 289-5005
Top of page