Valcourt, June 23, 2016
Two new public charging stations in the Estrie region

The Musée de l'ingéniosité J. Armand Bombardier joins the Electric Circuit for its reopening!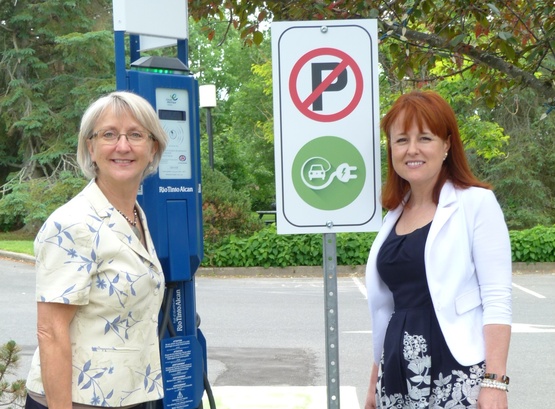 The Electric Circuit and the Musée de l'ingéniosité J. Armand Bombardier are pleased to announce the commissioning of two new public charging stations for electric vehicles. After having completely overhauled its facilities and exhibits, the museum once again welcomes visitors and now offers two Electric Circuit charging stations for their electric vehicles. They are located in the museum's parking lot, at 1001, Avenue J.-A.-Bombardier in Valcourt.
"Joining the Electric Circuit is completely in line with Joseph-Armand Bombardier's ingenious, visionary spirit," said Carol Pauzé, General Manager of the museum. "We are pleased to contribute to developing the network which now features 37 public charging stations in the Estrie region."
"We are proud to welcome the J. Armand Bombardier museum, an institution that shares our ambition for innovation," said France Lampron, Director – Transportation Electrification at Hydro-Québec. "By offering this public charging service, the museum encourages visitors to adopt electric vehicles: an innovative, environmentally conscious step towards improving our carbon footprint."
About the Museum of Ingenuity J. Armand Bombardier
Located in Valcourt, in the Estrie region, the Musée de l'ingéniosité J. Armand Bombardier showcases the legacy of Joseph-Armand Bombardier and his successors by showing visitors that everyone has the ability to be creative, ingenuous, and innovative. Founded in 1971, the museum also works actively to inspire future generations and fulfills its cultural and educational mission.
For more information about the Musée de l'ingéniosité J. Armand Bombardier (rates, opening hours, etc.), please visit their new Web site: www.museebombardier.com.
About the Electric Circuit
The Electric Circuit is the largest public charging network in Québec. It is a major initiative in the implementation of the infrastructure required to support the adoption of plug-in electric vehicles in Québec. The network comprises over 670 public charging stations, including 32 fast-charge stations, operating across 16 Québec regions. Since its launch in March 2012, 145 private and institutional partners have joined the Electric Circuit, and the network now has over 8,200 members.
Electric Circuit users have access to a 24/7 telephone help line run by CAA-Québec, as well as a charging-station locator service. The Electric Circuit Web site, theelectriccircuit.com, and the mobile app for iOS and Android are updated as new stations are commissioned. The Electric Circuit card also allows users to access the 150 Québec charging stations of FLO (formerly the VERnetwork).
Information:
Louis-Olivier Batty
Hydro-Québec, for the Electric Circuit
514 289-4214
batty.louis-olivier@hydro.qc.ca
Top of page