Laval, June 9, 2016
Two new Electric Circuit public charging stations

Collège Laval contributes to sustainable transportation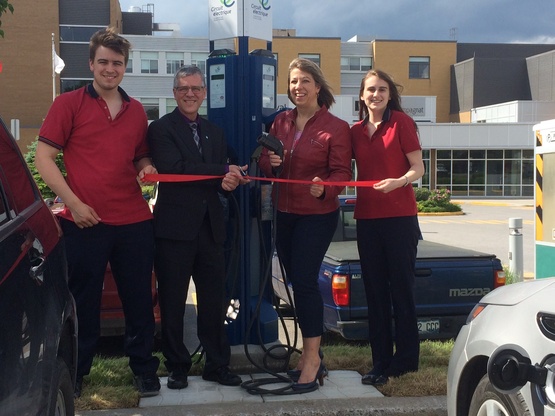 The Electric Circuit and the Collège Laval are pleased to announce the signing of a partnership agreement, as well as the commissioning of two new public charging stations for electric vehicles. Visitors can now charge their vehicles using the charging stations located at 1275, Avenue du Collège in Laval.
"In 2014, we were the first school to take part in the BNQ 21000 pilot project launched by various stakeholders from the private, public and socio-economic sectors. Collège Laval is proud to pursue its commitment to sustainable development with the addition of two new Electric Circuit public charging stations in its parking lot. This initiative is in line with our ongoing desire to improve our business practices, educate our community and be a model for other educational institutions," said Michel Baillargeon, General Manager of Collège Laval.
"We are delighted to welcome Collège Laval, an institution with a long-standing tradition of community involvement and a strong commitment to sustainable development," said France Lampron, Director – Transportation Electrification at Hydro-Québec on behalf of the founding partners of the Electric Circuit. "With these public charging stations, the college encourages the use of electric vehicles, while contributing to develop the network, which now has 22 public charging stations in Laval." »
About Collège Laval
Collège Laval figures among the largest private high schools in Québec. A teaching staff of over one hundred and nearly 2,000 students pursue the work of its founders. The institution's educational mission is to train students to become responsible young citizens who are actively involved in society. The Collège also aims to strike a balance between educational training, learning about ourselves and others, and discovering a passion.
About the Electric Circuit
The Electric Circuit is the largest public charging network in Québec. It is a major initiative in the implementation of the infrastructure required to support the adoption of plug-in electric vehicles in Québec. The network comprises over 635 public charging stations, including 32 fast-charge stations, operating across 16 Québec regions. Since its launch in March 2012, 143 private and institutional partners have joined the Electric Circuit, and the network now has over 8,200 members.
Electric Circuit users have access to a 24/7 telephone help line run by CAA-Québec, as well as a charging-station locator service. The Electric Circuit Web site, theelectriccircuit.com, and the mobile app for iOS and Android are updated as new stations are commissioned. The Electric Circuit card also allows users to access FLO's 150 Québec charging stations (formerly RéseauVER).
For information:
Louis-Olivier Batty
Hydro-Québec, for the Electric Circuit
514 289-4214
batty.louis-olivier@hydro.qc.ca
Top of page