Salaberry-de-Valleyfield, May 17, 2016
Salaberry-de-Valleyfield joins the Electric Circuit

Two public charging stations now available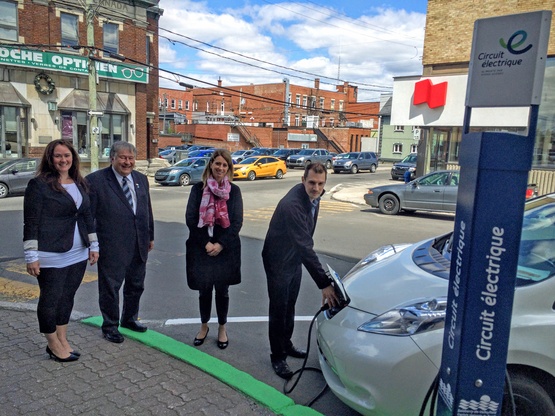 Thanks to a partnership agreement with the Electric Circuit, the municipality of Salaberry-de-Valleyfield will now offer its residents and visitors two public charging stations.
The agreement, spearheaded by Maggy Hinse, Environment Advisor at the municipality of Salaberry-de-Valleyfield, calls for the installation of one charging station at the public market (51, rue Hébert) and another just east of city hall (rue Nicholson). All plug-in vehicles sold in North America are compatible with these standard charging stations.
"In line with the objectives set out in our sustainable development plan focused on the environment, (PADD-E), our municipality is pleased to join this network and contribute to transportation electrification, helping to reduce greenhouse gas emissions. Other local partners also offer public charging stations to drivers of electric vehicles, which makes for an interesting service offering," said Mayor Denis Lapointe.
"We are delighted to welcome a municipality like Salaberry-de-Valleyfield, which values and prioritizes the environment," said France Lampron, Director – Transportation Electrification at Hydro-Québec, on behalf of Electric Circuit partners. With the addition of these charging stations to the ones already available at the Collège de Valleyfield and the St-Hubert restaurant, the Electric Circuit now has 125 charging stations in the Montérégie region, including four in Salaberry-de-Valleyfield."
Fees to use the charging stations
The cost of charging at the two Electric Circuit charging stations owned by the municipality is $1 per hour. Billed by the minute, this fee applies for as long as the vehicle is connected. Signage will specify that the parking space located in front of the charging station is for the exclusive use of plug-in vehicles.
About the Electric Circuit
The Electric Circuit is the largest public charging network in Québec. It is a major initiative in the implementation of the infrastructure required to support the adoption of plug-in electric vehicles in Québec. The network comprises some 620 public charging stations, including 31 fast-charge stations, across 16 Québec regions. Since its launch in March 2012, 140 private and institutional partners have joined the Electric Circuit, and the network now has over 7,800 members.
Electric Circuit users have access to a 24/7 telephone help line run by CAA-Québec, as well as a charging-station locator service. The Electric Circuit Web site, theelectriccircuit.com, and the mobile app for iOS and Android are updated as new stations are commissioned. The Electric Circuit card also allows users to access VERnetwork's 150 Québec charging stations.
Source: Service des relations avec le milieu
450 370-4875 | communications@ville.valleyfield.qc.ca
www.ville.valleyfield.qc.ca | www.facebook.com/valleyfield

Information: Service de l'environnement et des travaux publics
450 370-4820 | gestionduterritoire@ville.valleyfield.qc.ca
Hydro-Québec, for the Electric Circuit
Louis-Olivier Batty
514 289-4214 | batty.louis-olivier@hydro.qc.ca
Top of page