Montréal, May 2, 2016
The Electric Circuit rolls into Ontario
The Electric Circuit is pleased to announce that its proposal to set up a fast-charge corridor between Québec and the Ottawa area has been selected by the Government of Ontario. This project was submitted further to a request for proposals for public and private partners to set up a public charging infrastructure for electric vehicles (EVs) throughout Ontario.
The rollout of this corridor calls for the commissioning of 14 fast-charge stations along Highways 401, 416, 417 and 17 by 2017. An additional eight 240-V (Level-2) charging stations are also planned at strategic locations in Ottawa.
The Electric Circuit, a subsidiary of Hydro-Québec, submitted a joint bid with Metro, St-Hubert restaurants and the City of Ottawa, which will install charging stations on its property. The charging stations will be manufactured by the Electric Circuit's supplier, Québec-based AddÉnergie.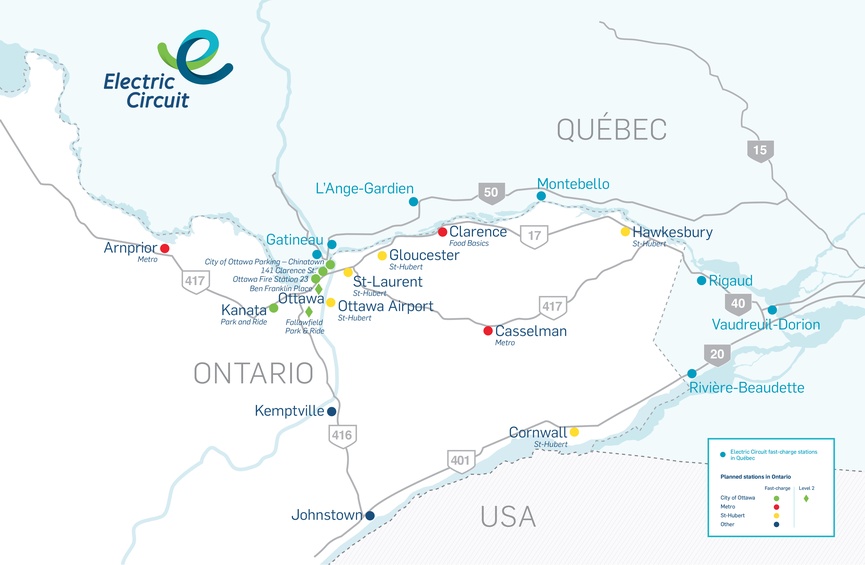 "Our government is strongly committed to transportation electrification, as we demonstrated with our Transportation Electrification Plan and our ambitious 2030 Energy Policy. Our objectives are clear: in addition to increasing the number of electric vehicles on our roads and supporting a low-carbon economy, we want to export Québec's expertise. As Canada's first public charging network, the Electric Circuit is an excellent example, demonstrating our leadership in this area," said Pierre Arcand, the Minister of Energy and Natural Resources and Minister responsible for the Northern Plan.
"This initiative reflects the ambitious objective set out in our Transportation Electrification Action Plan 2015-2020, which aims to have 100,000 electric and plug-in hybrid vehicles on our roads by 2020. The installation of charging stations along highways is another argument to convince future car buyers to make the switch to electric vehicles," said Jacques Daoust, the Minister of Transportation, Sustainable Mobility and Transportation Electrification.
"We are very proud of the work accomplished by the Electric Circuit and its partners, whose actions contribute to transportation electrification in Québec and now in Ontario. This is a great recognition of the Electric Circuit's expertise and the quality of service it offers EV drivers," added Éric Martel, President and CEO of Hydro-Québec.
"Rolling out a corridor between Québec and Ontario is a major step for the Electric Circuit, as it allows us to continue to meet the needs of EV drivers. They can now travel more easily between Québec and Ontario, which is great news for both tourism and the economy," said France Lampron, President of the Electric Circuit.
About the Electric Circuit
The Electric Circuit is the largest public charging network in Québec. It is a major initiative in the implementation of the infrastructure required to support the adoption of plug-in electric vehicles in Québec. The network comprises some 620 public charging stations, including 31 fast-charge stations, across 16 Québec regions. Since its launch in March 2012, 136 private and institutional partners have joined the Electric Circuit, and the network now has over 7,000 members.
Electric Circuit users have access to a 24/7 telephone help line run by CAA-Québec, as well as a charging-station locator service. The Electric Circuit Web site, theelectriccircuit.com, and the mobile app for iOS and Android are updated as new stations are commissioned. The Electric Circuit card also allows users to access VERnetwork's 150 Québec charging stations.
Contact:
Louis-Olivier Batty
Hydro-Québec, for the Electric Circuit
514 289-5005
batty.louis-olivier@hydro.qc.ca
Top of page