Saint-Colomban, April 5, 2016
A new public charging station in the Laurentides

The municipality of Saint-Colomban joins the Electric Circuit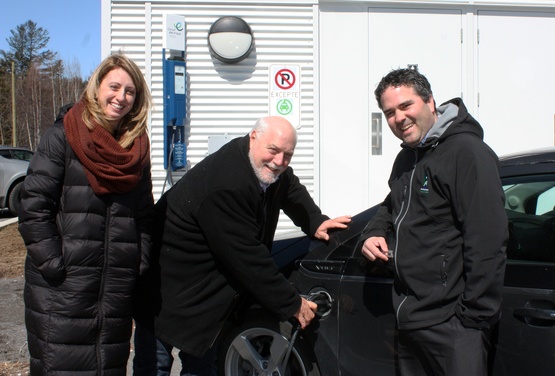 The Electric Circuit is pleased to announce the signing of a partnership agreement with the municipality of Saint-Colomban, as well as the commissioning of a new public charging station for electric vehicles. Visitors can now charge their cars in the parking lot of the recreation and community centre, located at 323, Montée de l'Église.
"Our municipality wants to encourage this technological and ecological shift by offering electric vehicles drivers a public charging station that will make their life easier. Thanks to Hydro-Québec's grouped tender call we benefited from a great price. For many consumers, the availability of charging stations is a deciding factor in whether or not to purchase an electric vehicle," said Jean Dumais, Mayor of Saint-Colomban. "This decision was the obvious choice. But we know that what residents want is a network, not just one charging station. That's why Saint-Colomban is proud to be part of Electric Circuit's 600 charging stations. Let's hope that our small contribution will encourage others to make the switch to electricity, like the municipality of Saint-Colomban plans to do with its own fleet when the opportunity arises."
"We are delighted that a municipality such as Saint-Colomban now offers a charging service to owners of electric vehicles," said France Lampron, Director – Transportation Electrification at Hydro-Québec, on behalf of the Electric Circuit's founding partners. "The municipality's partnership will allow us to improve the public charging offering in an area that is growing."
With the inauguration in Saint-Colomban, there are now 54 Electric Circuit charging stations in service throughout the Laurentides region.
About the Electric Circuit
The Electric Circuit is the largest public charging network in Québec. It is a major initiative in the implementation of the infrastructure required to support the adoption of plug-in electric vehicles in Québec. The network comprises over 600 public charging stations, including 31 fast-charge stations, in operation across 16 Québec regions. Since its launch in March 2012, 137 private and institutional partners have joined the Electric Circuit, and the network now has over 7,000 members.
Electric Circuit users have access to a 24/7 telephone help line run by CAA-Québec, as well as a charging-station locator service. The Electric Circuit Web site, theelectriccircuit.com, and the mobile app for iOS and Android are updated as new stations are commissioned. The Electric Circuit card also allows users to access VERnetwork's 150 Québec charging stations.
For information:
Louis-Olivier Batty
Hydro-Québec, for the Electric Circuit
514 289-4214
batty.louis-olivier@hydro.qc.ca

Maxime Dorais
Ville de Saint-Colomban
450 436-1453, ext. 6303
communication@st-colomban.qc.ca
Top of page