Montréal, December 8, 2020
Developing green hydrogen in Québec: An important step toward a carbon-free economy
1. The time is ripe for green hydrogen, a key component of the energy transition.
The development of green hydrogen is a strategic solution that will advance the energy transition in Québec. It will help decarbonize the economy by allowing indirect electrification of uses where direct electrification is not technically or economically feasible, such as industrial processes, heavy transport and chemical processes. That is why Hydro-Québec plans to participate in the development of a green hydrogen industry.
In Québec, 70% of greenhouse gas (GHG) emissions come from energy sources, almost exclusively fossil fuels (oil, natural gas and coal). A major transition of Québec's energy mix is therefore needed to reduce GHG emissions.
This is one of Hydro-Québec's priorities. The company is committed to working actively toward that objective, not only by participating in the electrification of transportation and heating of buildings, but also by supporting green hydrogen in Québec.
Green hydrogen is produced through electrolysis of water using electricity from renewable sources, rather than through methane reforming, which emits considerable levels of GHGs.
Hydrogen is attracting keen interest worldwide. The rollout and competitiveness of intermittent renewables, combined with GHG reduction targets and technological advances, make it a central part of the energy transition in many countries. This provides an opportunity for Québec to position itself in the international green hydrogen industry. In other words, the development of green hydrogen is an important vector for economic growth in Québec.
2. With its renewable energy, Québec has advantages that lend themselves to green hydrogen production.
Green hydrogen today accounts for only a small percentage of global hydrogen production; the lion's share of the market is held by hydrogen from fossil fuels, known as grey hydrogen. Creating a competitive green hydrogen industry will require sustained demand and large-scale production. Hydro-Québec is currently working to develop a strategy that will help the province meet these challenges.
Québec has many advantages that lend themselves to green hydrogen production. First and foremost, we can rely on competitively priced renewable electricity and vast reserves of energy available at all times, thanks to the storage capacities of our large hydroelectric reservoirs.
Additional factors working in our favor include:
Our recognized expertise in renewable energy sources
The leadership shown by our universities and research centers in the field of hydrogen production
Proximity to the U.S., a huge export market
The Québec government's ambitious GHG reduction targets
The benefits for Québec are numerous as well:
Reduced GHG emissions
Greater resilience of our energy system
Less dependence on imported fossil fuels, leading to an improved trade balance
Economic development and job creation
Several sectors seem promising as users of green hydrogen in Québec by 2030:
Sustainable mobility

Green hydrogen can power fuel-cell electric vehicles (FCEVs), which could replace diesel trucks, and even trains, for freight services.
It can also be used as a feedstock in the production of carbon-neutral synthetic fuels for air or sea transport.
Industrial processes

Green hydrogen can replace grey hydrogen as a feedstock for conventional industrial processes in steelmaking and petroleum refining.
Green chemistry

Green hydrogen can also replace grey hydrogen as a feedstock in certain chemical processes, such as methanol or ammonia production.
3. An ambitious first project: Hydro-Québec will operate one of the world's most powerful green hydrogen electrolyzers.
On December 8, 2020, Hydro-Québec announced that it will build and operate an electrolysis plant in Varennes, Québec. The facility will have a capacity of 88 megawatts, making it one of the world's most powerful electrolyzers for green hydrogen production.
It will supply green hydrogen and oxygen to the planned Recyclage Carbone Varennes (RCV) biofuel plant, which will offer an alternative to landfilling and incinerating non-recyclable waste materials by converting them into biofuels.
This project, developed jointly with Enerkem, Shell, Suncor and Proman, demonstrates Hydro-Québec's support for green hydrogen as an emerging energy source in Québec.
The two facilities are slated to come on stream at the same time, at the end of 2023.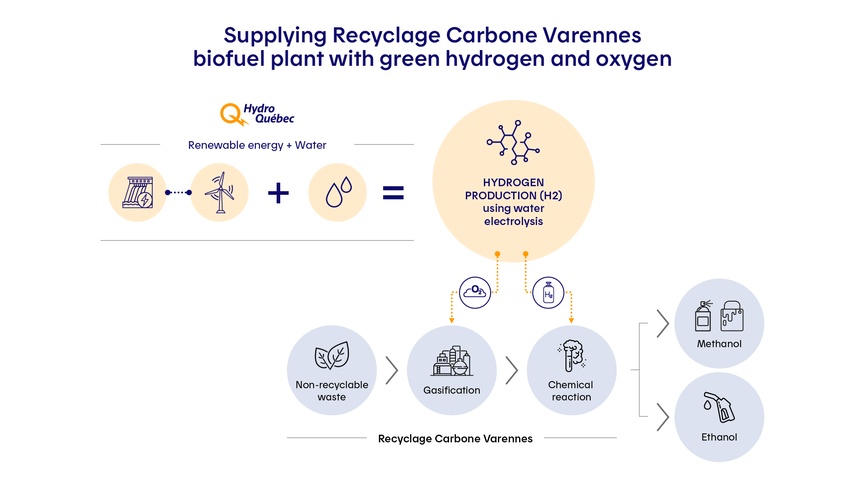 The process will use water and clean power from Hydro-Québec to produce the green hydrogen and oxygen needed by the RCV biofuel plant. One use of RCV's biofuels will be to replace fossil fuels in gasoline-powered vehicles, which will help reduce GHG emissions from transportation.
This first project will enable Hydro-Québec to become familiar with leading-edge technologies and will serve as a showcase to stimulate the development of green hydrogen in Québec.
4. Outlook and future projects
Although green hydrogen has seen little development globally, its prospects for growth and competitiveness by 2030 demonstrate its high potential.
In Québec, some sectors will still need further exploration beyond 2030:
Large-scale energy storage

Green hydrogen is a potential avenue for storing large quantities of energy. This energy could be used by electric utilities to power off-grid systems, which would reduce their GHG emissions, and to help meet demand on the main grid during winter peak periods.
Heat generation

Green hydrogen could be combined with captured carbon dioxide (CO2) to produce renewable natural gas (RNG), or a percentage could be injected directly into the gas network, which would help make the natural gas industry greener.
Like green hydrogen, bioenergy could also be used as a complement to electrification in reducing Québec's carbon footprint. For this reason, Hydro-Québec is taking an interest in certain projects that will help structure the development of this energy source in Québec, and remains open to companies that also wish to contribute.
Top of page